But increases in tuition and other costs associated with earning an MBA or Master's, as well as changes in the economy, may impact your decision to enroll in a graduate business programme.
As the cost of pursuing a business degree (and potential debt load) have been the most common hesitations cited by prospective students in ongoing research conducted by GMAC, a new interactive report from GMAC helps provide some direction as you imagine your starting point in thinking about ways to pay for school.
Five years of survey data (2009 to 2013) as part of the mba.com Prospective Students Survey, are assembled into an interactive report to help you calibrate your own view with information about the financing mix your peers plan to cover the costs of their education.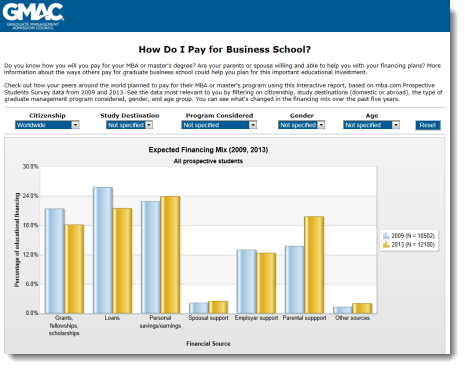 This interactive report helps you explore the data that's most meaningful to your options since data can be filtered by:
Citizenship,
Domestic or international study destination,
Type of graduate management programme considered,
Gender, and
Age group.
Here are a few examples of how the funding mix can vary and change over time:
Indian citizens considering full-time 2-year MBA programmes abroad in 2013 depended heavily on loans but expected support from parents to make up for a loss in grants or scholarships as compared with 2009.
US citizens considering full-time 2-year MBA programmes in the US in 2013 expected to tap personal funds, employers, and parents for more of the cost, relying less on loans than in 2009.
European citizens considering full-time 1-year MBAs in 2013 expected less of the cost to be covered by grants/scholarships, and more investment from parents to meet costs than peers in 2009.
It helps to be pro-active about developing a strategy that works for you and your family, and that aligns with your career aspirations. No one formula is right for everyone. For more information on planning for B-school and making sure you are financially ready for the big step ahead, see "Financing Your Degree."
Investing, not purchasing
A graduate management degree is all about future value and benefits. Look no further than recent B-school alumni. Survey results in 2014 show that 79% of business school alumni from the classes of 1959-2013 worldwide say their expectations for the degree's return on investment were exceeded or met.
This article was first posted at The Official Website of the GMAT