Who would have thought a couple of decades ago that consultation would be needed when attempting to gain admission into the right MBA programme? The answer may be very few, yet as admission for universities becomes more stringent and competitive, gaining professional advice and help to guide you through the application process can give you a real edge. This article explains what MBA consulting is, and how it can assist you in your MBA admission process.
The Benefits of MBA Consulting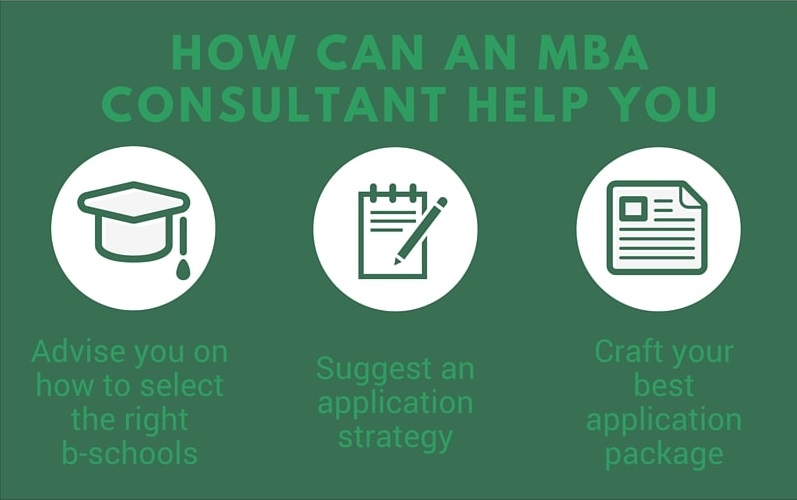 When you are applying to the business school of your dreams, it may be difficult for you to anticipate exactly what the school's officials are looking for in your application. As this is a very important decision in your life, you don't want to fill out your application haphazardly, reducing the chances of getting into the school of your choice. That is precisely what MBA admission consulting is there to help you with.
MBA consultants are highly competent and well-versed in the admissions process of various business schools. They know exactly what these business schools are looking for and how to help you achieve admission into your preferred school. They can advise you on how to shortlist the best business school according to your career aspirations, budget, and other factors. However, their key value lies in their guidance in crafting your application package for admission to business schools. Some admissions consultants can guide you about the most effective approach to ensure a high score on tests such as the GMAT, but applicants ordinarily work with professional GMAT instructors on their actual exam preparation.
Here is how Travis Morgan, Veritas Prep's Director of Admissions Consulting, describes their approach:
We like to compare an admissions consultant to a coach in sports. Do you need a coach to play sports? Of course not, but among the most competitive ranks, a top coach enables each player to achieve his or her greatest potential.
Hillary Schubach, President of Shine/ MBA Admissions Consulting believes that:
Even for the strongest candidates, a good consultant can also help them craft their stories, gain clarity on their strengths versus other applicants, and identify opportunities to strengthen their candidacy even further before applying. And there is not a single candidate who couldn't benefit from that!
Services offered by MBA Consultants
MBA consultants help with all aspects of the application process from creating a focused and informative MBA resume/CV, through to fine tuning each element of the application package to conducting mock interviews and even reviewing a application which has been turned down to create a re-application strategy. However, it is important to recognise that MBA consulting works as a partnership between the applicant (client) and the consultant (coach), and the consultant does not do the work for you.
The Association of International Graduate Admissions Consultants (AIGAC) outlines rigid ethical principles for consultants to follow, which prevent them from unethically interfering in the admissions process. This includes taking compensation from business schools for placing students and/or completing full parts of the application process on behalf of the applicant amongst other violations. Hence, you can expect complete guidance from your MBA consultant who will tell you how to improve and where you are lacking until your application is picture perfect, but the consultant will never do the work for you.
Who and How Can Work with a Consultant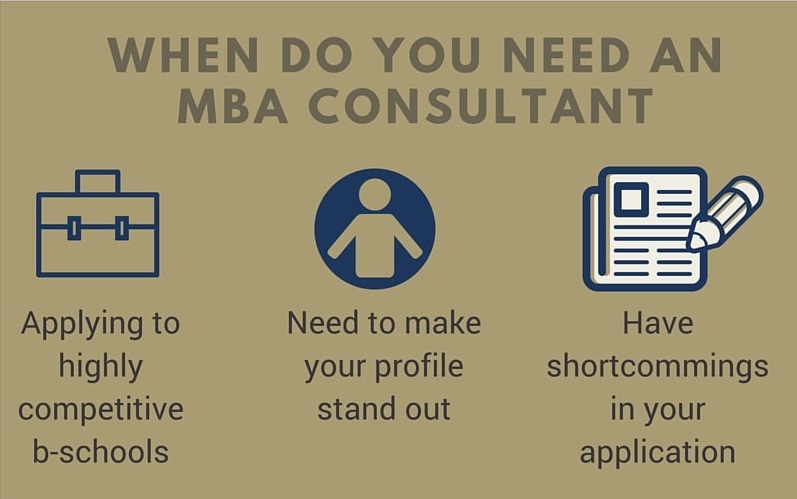 MBA consulting companies have different approaches. See for yourself:
At Veritas Prep, we work with strongly prepared candidates who have researched their target schools, have set their career goals, and are looking for expert admissions advice. However, we also work with candidates who had just made the decision to go to B-school, but don't really know what schools would be the best fit for them and haven't finalized their career goals, either. Our coaching can enable either type of candidate—or someone in between—achieve their greatest admissions potential.
Stacy Blackman Consulting works with every kind of applicant under the sun.
Our client pool reflects the diversity found in the actual MBA programs. I-bankers, teachers, ex-military, very young applicants, older applicants with families, consultants, athletes and so on.
According to PrepAdviser's How to Select an Admissions Consultant, over 50% of applicants applying to top 10 MBA programmes around the world globally opt for MBA consulting services to increase their chances of acceptance into the MBA programme of choice. Amongst thousands of applicants, only 10-15% clear the application process and are accepted into top business schools. For this caliber of schools many applicants have a score over 700 in their GMAT, so this is not a differential factor setting you apart from the rest. Hence, most students opt for advice in their essay and interview stages in order to ensure uniqueness and impress with their application.
Shine primarily attract applicants who are
targeting the top business schools, since those are typically the ones most willing to invest in a consultant to gain a competitive edge. However, we have worked with applicants to schools far beyond the top 20 and welcome any candidate who is passionate, grounded, and willing to work hard with us.
But applicants work with consultants on different elements of the application process depending on their needs.
Travis Morgan from Veritas Prep reveals that
applicants tend to spend the most time with their consultants crafting their essays. However, they're often surprised to find just as much value in the early stages of the process, such as identifying application strengths and weaknesses, suggesting schools that may not have been on the candidate's original list, offering suggestions to their resume to ensure it highlights the elements that admissions officers will be looking for, and even offering tips to maximize the value of info sessions and campus visits. We like to remind candidates that the MBA admissions process isn't just an "essay writing competition," there are many ways to show an admissions committee that you're qualified and prepared to make the most of your MBA experience.
Stacy Blackman from SBC has observed the following:
It varies for each client. For some it's setting up the right strategy up front. For others it's iterating on essays. For others it is managing recommendations or interview prep. We help with all aspects of the application process (except test prep) and what is most helpful depends on the client needs.
However, many consultants do not advise seeking help with selective parts of the application process and recommend a full consultation package for assistance in all parts of the application process.
Some consultants are also very upfront, and may often refuse to cater to clients who they do not think they can help in achieving admission into the chosen business school. Hence, if you have what it takes to get into your preferred business school and a good consultant who believes in your abilities, there is a high chance you should begin buying university supplies for your MBA. However, a consultant can also help you find the really best career path.
At Veritas Prep, we instruct our consultants to offer the client the best advice, even if that means encouraging them to wait to apply to business school or even consider an alternate route. For example, we've had clients who ultimately decided to attend a master's in public policy program or art school after speaking with their consultant.
How to select an MBA consultant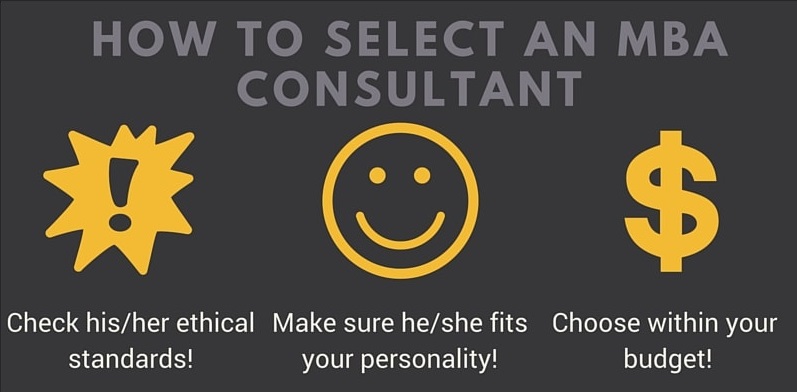 Selecting a consultant is essential for both the outcome of your application, as well as for how you satisfied you will be with the consulting process itself. Here is what MBA consultants themselves advise on how to select a professional to work with:
Hillary Schubach from Shine/ MBA Admissions Consulting recommends:
You will be working very closely together, so it's important to determine whether that person feels like a "fit" for you, in terms of style, personality, processes, and optimism about you as a candidate. A consultant should never make promises to you about admission, yet they also shouldn't dash all of your hopes of attending business school; their job is to help you find the best schools for you—or advise you how to improve your chances of success. Therefore, it's not important how many of their clients were accepted to a particular school (not every client is a good fit for your target schools!) but rather their success with clients in general. Finally, their integrity is critical. Ensure that your consultant is operating to the highest ethical standards (e.g. doesn't write essays for candidates), can be trusted to communicate with you and deliver reliably, and has access to the latest industry information.
But just like coins, the consulting process has two sides. This is so, because consulting is a partnership and involves a lot of trust on both sides. Consultants can select whom to work with as well. It is not only the applicant who chooses.
At Veritas Prep, we help you select the best admissions consultant based on your professional and academic background, goals, target schools, and personal working style. We strongly believe that if your Head Consultant has personal experience working in admissions at one of your target schools, working in a similar professional role or your target industry, and/or can really connect with you on a deep level, your applications will absolutely pop.
However, consultants can even reject the offer of working with an applicant. Although this is rare, Hillary and Stacy reveal in which cases this can happen:
Consultants aren't required to work with a candidate with whom they don't feel comfortable, explains Hillary:
The only circumstances under which I could imagine declining the opportunity to work with someone would be if they had questionable integrity (e.g. they were asking us to work in a dishonorable way), or if they are being extremely unrealistic and unreasonable about their candidacy. In the latter case though, I consider it my job to convince them to be more open-minded to adding schools to their list that may be a better fit (in addition to following their dreams), and take steps where possible to strengthen their candidacy. If they're willing to listen, then we'll support them wholeheartedly.
At SBC, a consultant CAN reject a client and they like it that way, shares Stacy:
We want each consultant to truly believe in their clients and to have time to focus on them. We have a diverse team with broad experience and we work hard to make sure each consultant has a diverse and manageable group of clients. We never want a consultant to be too busy, unenthusiastic or disinterested.
Finally, it is advisable to choose an MBA consulting service within your budget, one that has experience with the calibre of business schools you are applying to, suits your academic and personal profile, and is professionally ethical.