If you are a manager looking to reach the final frontier in career progression, an EMBA education could be the answer to your ambitions. But first, you must get in.
How to gain EMBA admission?
Research the course
Knowing what an EMBA course entails will shine through in any application. For this reason, it is important to sit down and look at the course particulars before you proceed. Like with any course, there will be a different emphasis depending on the university. Think about what you are looking for in the course and try to understand whether the one that you are applying for meets your expectations. Furthermore, you will need to know the application process steps which, in most cases, include registering interest and completing an online application.
A standard application requires one or several essays, a resume and, depending on the school or course provider, the completion of tests such as the GMAT.
But since this is a programme based on the interactions between students with senior experience and seasoned tutors, who teach C-level general management, you will be asked to prove that you have the necessary managerial and professional background within your sphere of expertise. This includes both length and depth of management expertise.
EMBA Admission Advice: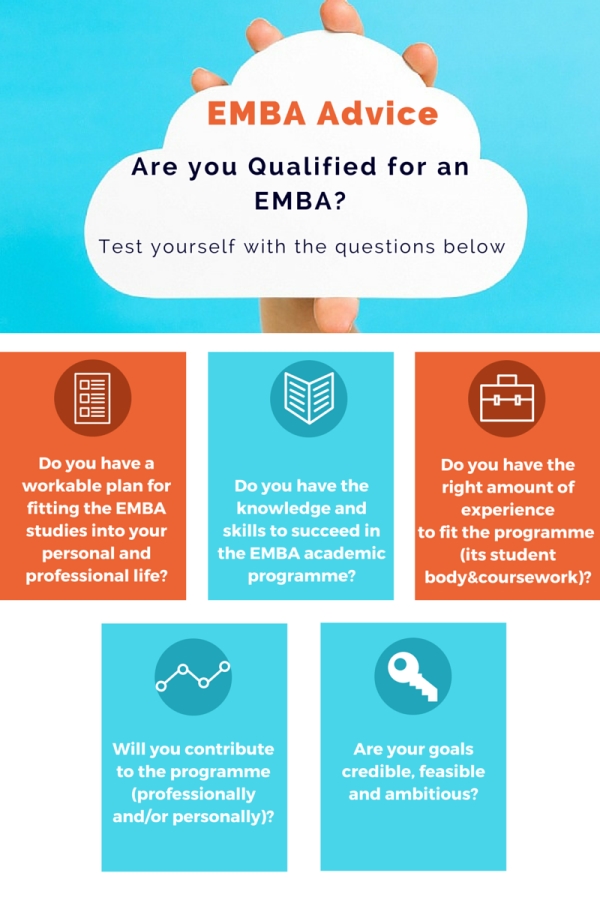 Speak to your employer early on
Potential sponsorship and/or the ability to get proof of time sponsorship from employers is often a matter of timing. Sponsorship means that your employer is happy for you to take some time off work to complete training. Organisations respond better to employee requests if they are given plenty of time to consider what the request might mean. Potential EMBA students are more likely to get support for their course if they speak with their employer sooner rather than later. All EMBA courses require students, as a minimum, to have proof of time sponsorship from their current employer.
Furthermore, although full financial sponsorship from employers for EMBA courses is now rarer than it was a few years back, there is still an opportunity to receive some money towards your EMBA course. It should be noted that employers can also benefit from sponsoring your EMBA Admission since it will typically be in a part-time modular format and you will keep contributing to the company.
Moreover, you will be in a position to immediately implement the new knowledge, skills and ideas gained in the EMBA classroom. On the flip side, employer sponsorship is binding, so make sure you check out your obligations under the sponsorship contract and decide whether they suit you. Also, some companies have policies and procedures to identify management talent in the company before they allocate their support. These procedures may be just once a year.
Checking early is key!
Take a quantitative abilities course
Different programmes have different EMBA admission requirements.
Conversely to MBA programmes, you may or may not be required to take a GMAT, and the required score will vary from school to school. However, if your school of choice does indeed ask you to take the GMAT, it is important to be confident in your numerical skills before applying. As former Senior Associate Director of Admissions for the Executive MBA programme at NYU Stem, Dina Glasofer, said:
It is important to demonstrate strong quantitative abilities as an applicant to an EMBA programme. If you have concerns about this, there are several ways to address it. If you did not take quantitative classes as an undergraduate or if you do not feel that your undergraduate grades reflect your abilities, consider taking the GMAT or a quantitative class at a local accredited school.
Be well prepared for the interview
EMBA Admission is a competitive affair, and an interview is an excellent opportunity for you to sell yourself and put forward any information you felt you missed out on your written application. Schools often determine who they admit based on an interview, so be prepared. Research the school and the programme to be able to answer questions on the spot. You are more than likely to be asked about where you think your career is going, what type of progress you aim to make, and to give demonstrations of your leadership ability. It is also very useful to be able to verbally demonstrate your professional skills and portray a clear vision of your short and long term career aspirations and, of course, contributions to the programme.
According to the executive director of the MBA Programme for Executives in San Francisco, Bernie Birt,
The interview is more a conversation about their [the applicants'] career journey, goals, and how (the applicant) made the decisions in life that helped get them to this point. I try to dig deeper to see how they fit into a team setting because that is critical for success in our programme.
Joining the exclusive club of executives is no small feat, and yet it is a natural progression for the bravest and most ambitious professionals. Good luck in your journey to greatness!
Feeling nervous about the admission interview. Check some great preparation tips for success!
This article has been produced by Advent Group and featured in the 2015-2016 Access MBA Guide.
Read more about EMBA Programmes
Source: economist.com