An online MBA is a kind of a distance-learning format. Distance MBAs can be 'blended' when combined with face-to-face study or can be 'fully online'. Teaching in an online MBA is based on autonomous, autodidactic learning styles using pre-prepared or live-stream interactive video and written content. The online format is perfectly suited to those who are studying from abroad, for those who want to combine work and study, or those who find it easier to concentrate outside of a classroom context.
Check out:
Are Distance MBAs Right for You?
Top 5 Reasons to Do an Online MBA
The first and only fully-online MBA
Birmingham Business School's Online MBA is expected to become the first fully-online MBA to receive full accreditation by the reputable Association of MBAs (AMBA), based in London. AMBA is one of three major institutions that review the quality of business education along with the Association to Advance Collegiate Schools of Business (AACSB), based in Tampa, Florida, and the European Quality Improvement System (EQUIS), based in Brussels.
Check out: What is an MBA accreditation?
The Birmingham Business School Online MBA offers students a fully immersive, mobile-friendly learning experience, with interactive classrooms and real-time, real-life case studies. Michael Shulver, designer and director of the Online MBA is proud to share:
Securing AMBA accreditation reflects the high standards we have set in designing and delivering this programme, using the latest technology and teaching methods.
This is an illustration of how an online MBA can offer the same high standard of education to people who want to combine study with work, and cannot commit to full-time education on campus. Simon Collinson, dean of Birmingham Business School explains:
The accreditation is testimony to our innovative programme design and state-of-the-art online learning that benefits professionals worldwide, who would normally find it difficult to study at university full-time.
Andrew Lavin has spent 12 months on studying the online course alongside a management role in Dubai:
Online study appealed to me, as I spend a large proportion of time abroad for work.
According to the 2015 prospective student survey of the Graduate Management Admission Council (GMAC), 12% of global MBA applicants consider online programmes: 21% in the US; 15% in Africa. And since Birmingham Business School's Online MBA was launched in 2015, it has attracted students in more than 20 different countries.
Distance MBAs with AMBA accreditation
Currently there are 15 distance MBA programmes that are accredited by AMBA. They are offered by universities and B-schools in India, Kazakhstan, Russia and the UK.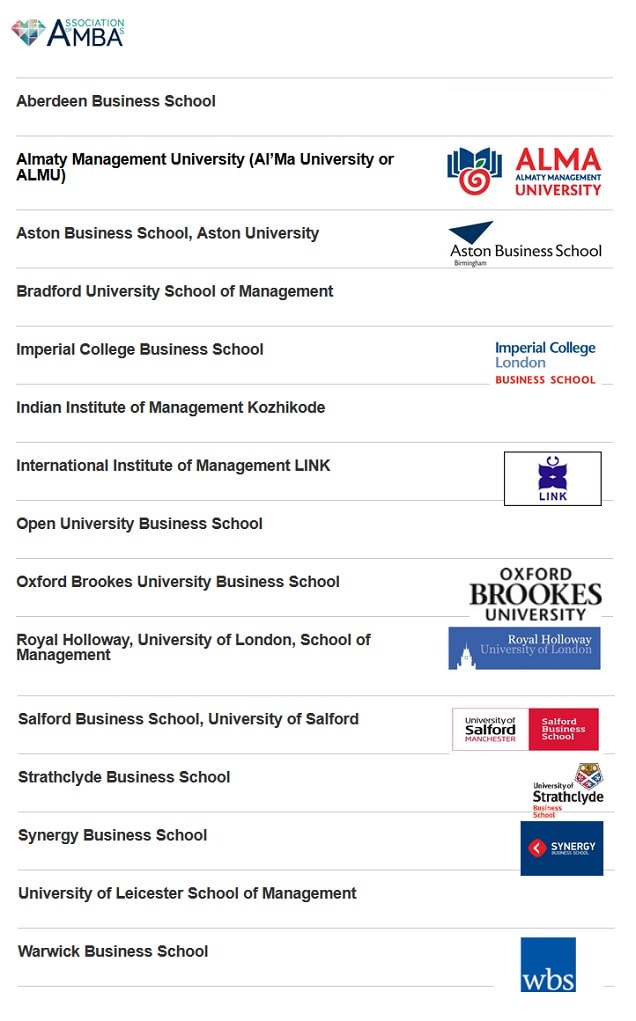 Blended MBAs with AMBA accreditation
Ten blended MBA programmes are currently accredited by AMBA. They are provided by B-schools in China, France, Netherlands and Russia.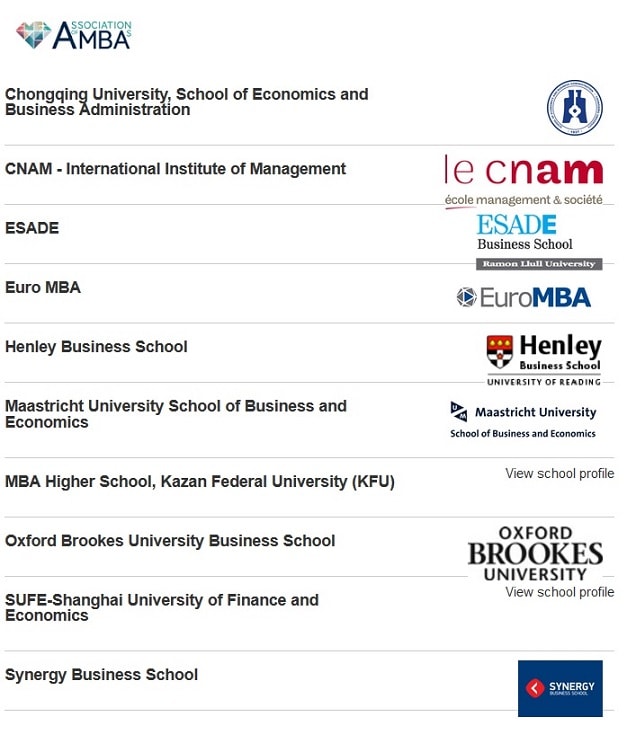 Check out: Pros and Cons of Online Masters Programmes
Online MBA rankings
The Financial Times publishes a ranking of online MBA programmes. It evaluates programmes that deliver online at least 70 per cent of the programme content. There are 15 business schools in the 2016 ranking, but the number is expected to grow in the coming years. Find details on more MBA rankings.
Sources: BusinessBecause, AMBA, Financial Times