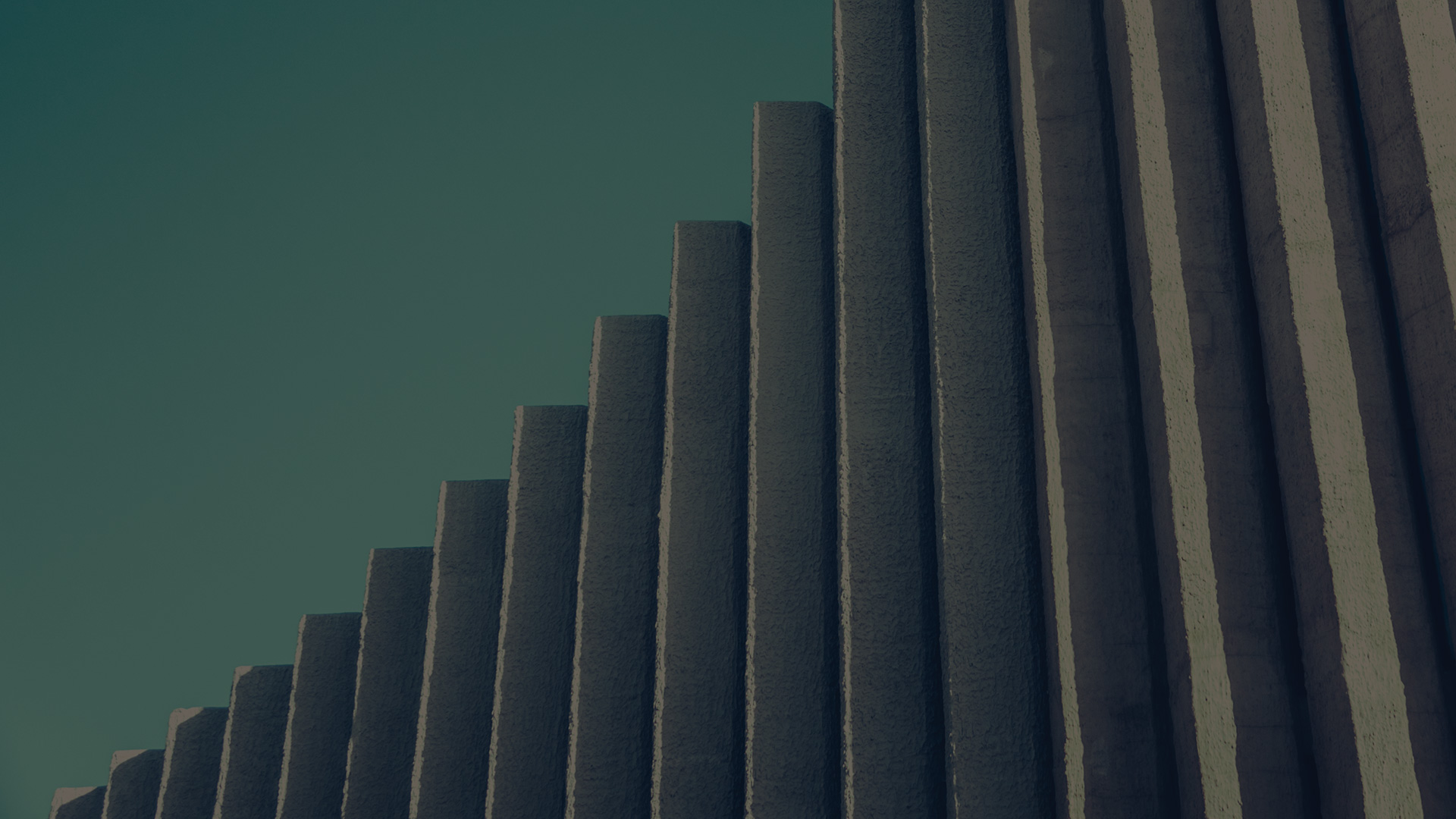 Features

Free

Premium
AI Match
Features
Free
Premium
AI Match
Personalized list of schools
Sorting of results
(probability to apply)
Explanation of results
Reload new results
1
Unlimited
Cultural Fit
Features
Free
Premium
Cultural Fit
Personalized list of schools
Comparison table between schools of choice
Access to full cultural map with all schools
Consult
Features
Free
Premium
Consult
Chat
Email
Individual 30-minute consultation
Evaluation of your chance to be accepted (1 school of choice)
How to get your Premium membership?
Register on Unimy and send your unique referral link to one or more friends. When someone registers using your code, both of you get Unimy Premium
Receive a referral link from a friend
Receive a Premium code from a Unimy partner
Why go Premium?
In short - because Premium gives you confidence.
See what our Premium users say about their favorite tools.
Hear it from our customers
The best thing about Unimy Premium for me is that I got results about my top 3 schools and was able to stay focused on the options that are most accurate for my profile.
I was looking for the business school program where I could be myself and among like-minded people. The Cultural Fit Test is always a great feature but with Premium's full school culture map, I could compare and visualize the cultures in different schools even more clearly.
I always prefer to have a personal interaction when using a service. The consultant I spoke to dedicated their time to get to know my results from the platform and helped me make sense of the different options I could pursue.
Premium users get access to Unimy's main exclusive features:
AI Match Premium
Cultural Fit Premium
Consult Premium
AI Match Premium
Premium members get a sorted "Top 3" list of the schools where they are most likely to apply, based on their profile and MBA preferences.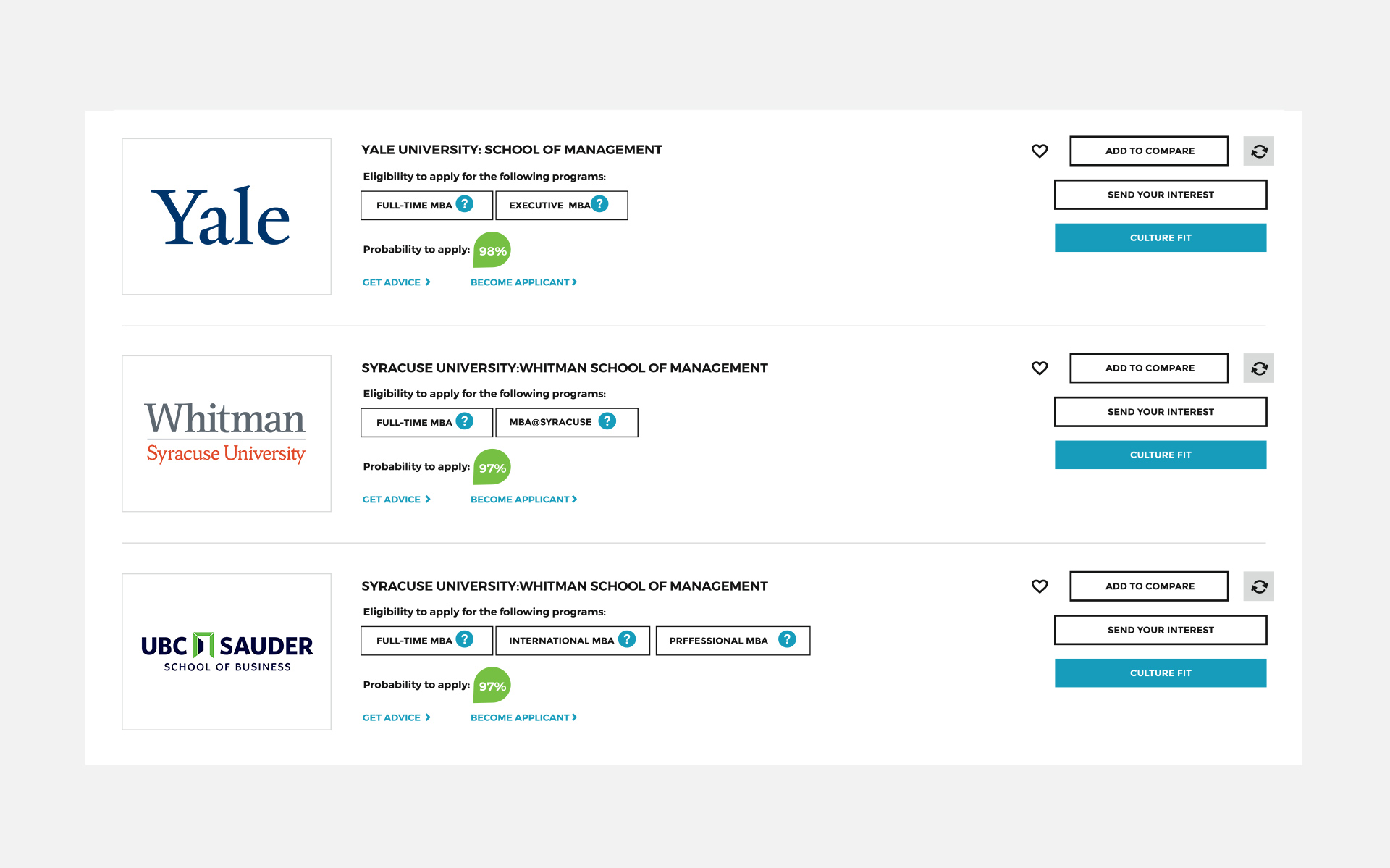 Cultural Fit Premium
Premium members have access to the full cultural map with all participating business schools. Choose two cultural dimensions and a geographic region (optional) to explore the interactive map.*
* For example, the chart below shows the positioning of business schools in Asia according to the cultural dimensions of Structured vs. Flexible Organization and Explicit vs. Intuitive Communication.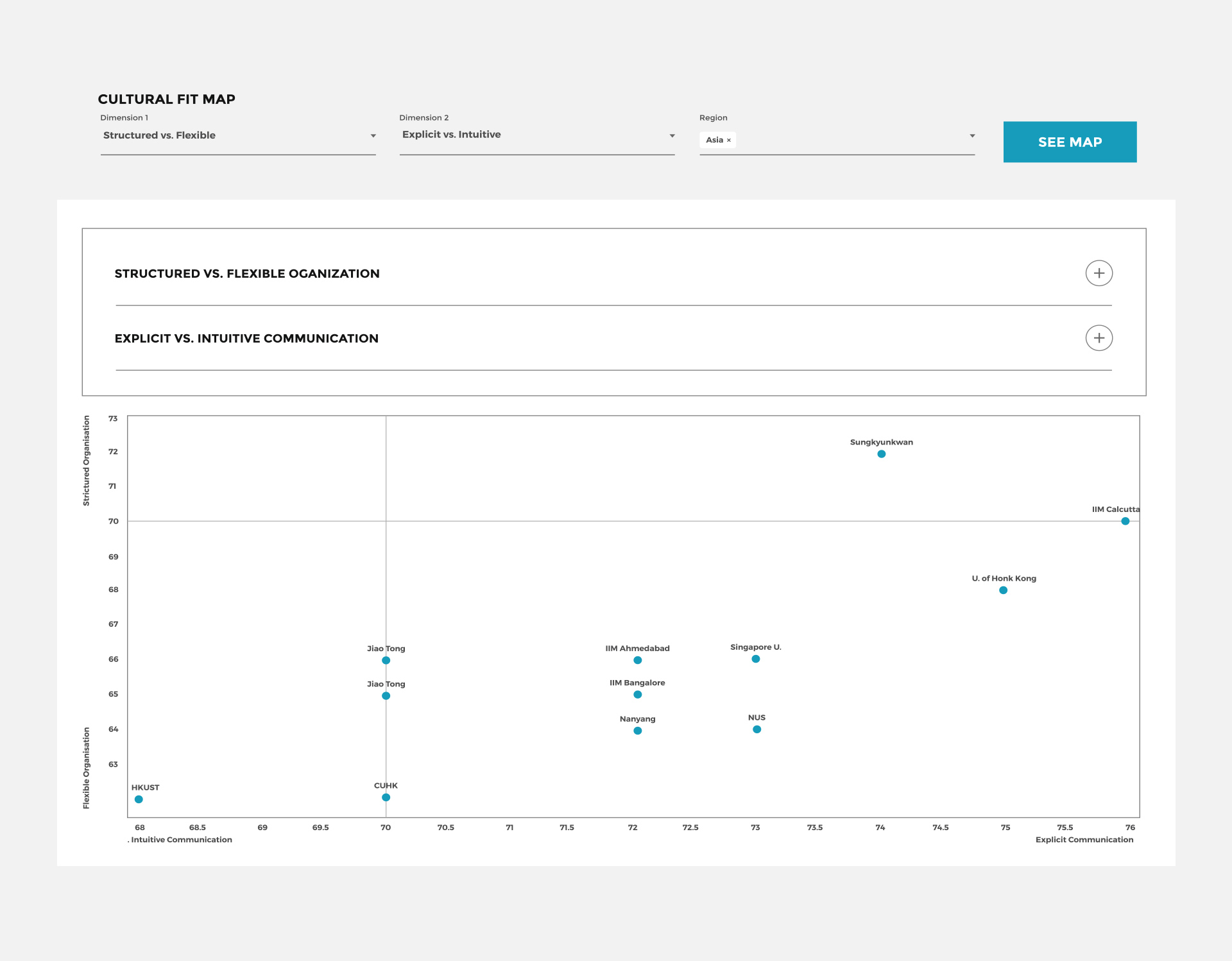 Consult Premium
Premium members get an individual 30-minute consultation with one of our education experts in addition to having their MBA questions answered by chat or email.