Between admissions tests, letters of recommendation and essays, applying to business school can be an arduous process. Especially if you are waiting for a response from the school of your dreams.
Luckily, some full-time MBA programmes have high acceptance rates that might boost applicants' confidence. And that is something important, right?
At least 72.9 percent of applicants to full-time programmes were accepted at these 10 business schools in autumn 2015, according to data submitted to US News in an annual survey. The average acceptance rate among them was 85 percent. In comparison, the average acceptance rate for all 129 schools that reported these data was 44.7 percent.
The University of South Florida had the highest acceptance rate of any full-time MBA programme, at 100 percent. The school admitted all 21 of its applicants in fall 2015. So there is no fear of being put on the waiting list.
On the list of the 10 programmes with the highest acceptance rates, only two – the Freeman School of Business at Tulane University and the Leeds School of Business at the University of Colorado—Boulder – had received published US News ranks. The others are labelled Rank Not Published, or RNP, meaning that they ranked in the bottom quarter of their ranking category. US News calculates ranks for these schools but has decided not to publish them.
At the other end of the spectrum, there are the schools with the lowest admittance rates, including Stanford University in California, which ranks in a tie for No. 2 and admitted only 6.1 percent of applicants for the autumn of 2015​, and Harvard University, which ranks No. 1 and accepted 10.7 percent of applicants. In contrast with all the business schools with the highest acceptance rates, these institutions both had thousands of applicants, but are not easy to get into.
Below is a list of the 10 business schools with the highest full-time acceptance rates in autumn 2015.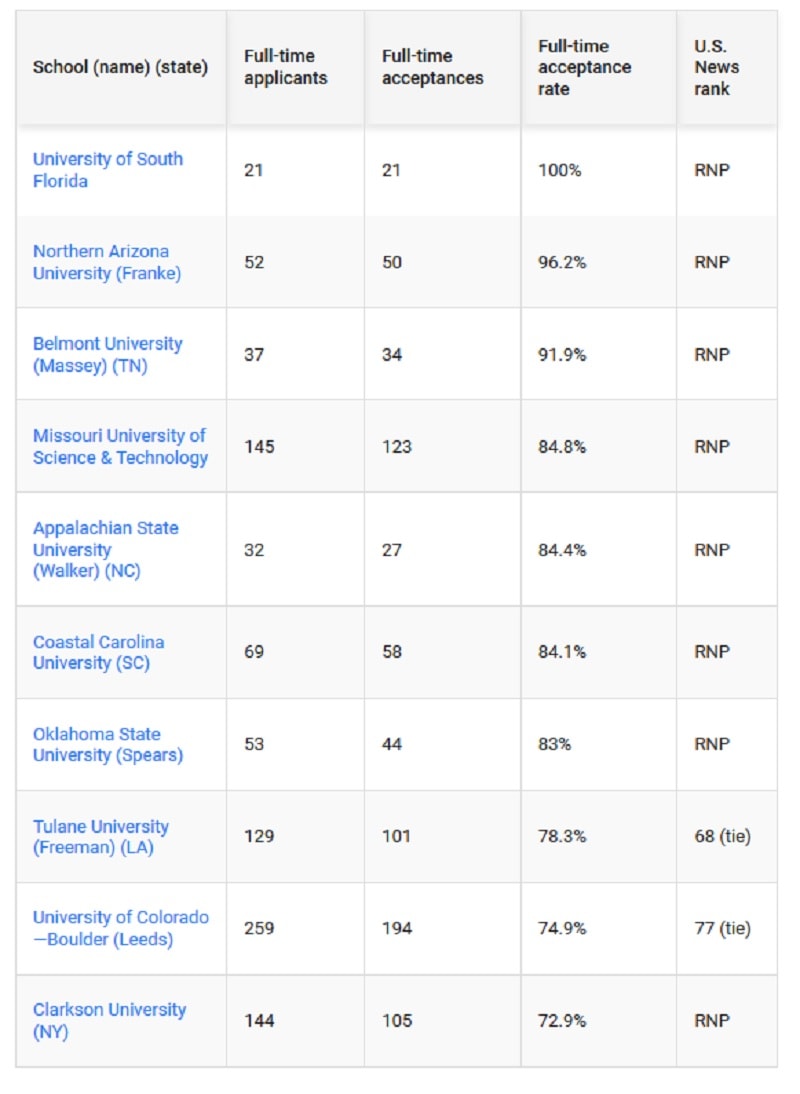 Source: US News and World Report