The Graduate Management Admission Council conducted a survey, where 169 employers participated. Around half of them said that they'd raise annual base salaries for new MBAs in order to keep up with inflation. Moreover, 18 per cent stated that they'd bump up salaries more than that. The rest of the employers intend to keep base salaries at 2014 levels. However, most of the undergraduate business majors and people with specialised business Master's degree will get paychecks in 2015 that look a lot like they would have in 2014.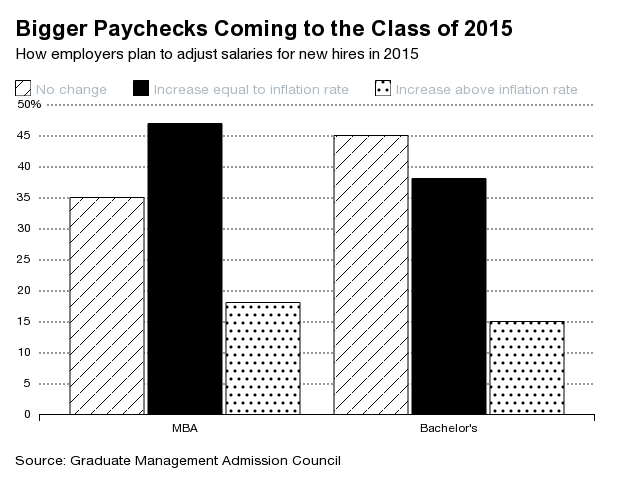 In addition to the bigger paychecks (Bloomberg Businessweek found the median base salary for business school graduates in 2014 was USD 105,000), MBAs can look forward to more job prospects in 2015. As much as 72 per cent of the employers expect to hire MBAs this year, compared with 69 per cent in 2014. Furthermore, 88 per cent said they will hire either as many or more MBAs as they did in 2014.
Specialised programmes may be in vogue right now, cropping up at business schools around the country. But the data suggests MBAs still have a leg up on graduates of other Master's programmes when it comes to demand from employers and salary outlook—at least for 2015.
Source: Bloomberg Businessweek