Financial Times data from the 2015 Global MBA rankings suggests that
Pay increase of younger graduates in the three years after graduation outperforms that of their older counterparts in both percentage terms and absolute terms.
The rankings are based
on a survey of the
MBA class of 2011
and analyses their career progress and salaries.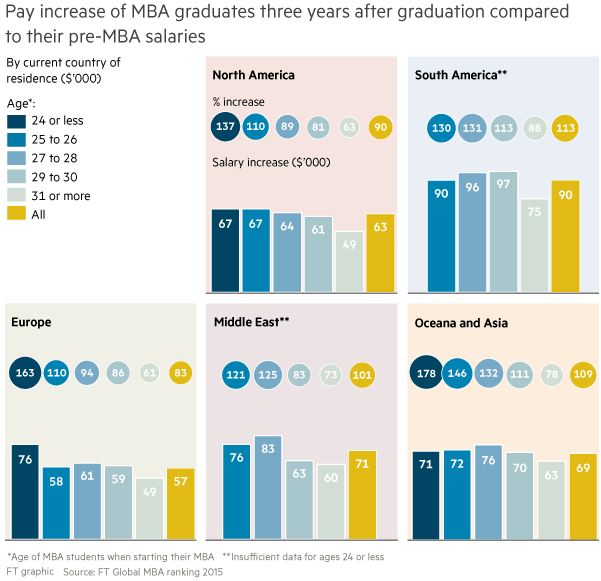 The data indicated that participants aged 24 or under had a salary increase by nearly 145% on their pre-MBA salary. In contrast, The participants over 31 years had a pay increase of 70%.
In general, the aforementioned pattern occurs in all industry sectors and countries.
On average three out of four respondents to the FT survey were aged between 25 and 30 when they started their MBA, while 21 per cent were 31 or above and the remaining 4 per cent were 24 or younger. The older the participants were, the more likely they were to enrol in one-year European MBA programmes as opposed to two-year US-type MBA programmes. On average, 75 per cent of those aged 26 or under attended two-year programmes in comparison to only 43 per cent of those aged 31 or above.
Check out: Debate of the Month: American vs European MBAs
Regardless of the age, 95% of MBA grads report that they had achieved their goal- get a bigger paycheck or be a better manager.
Read The ROI of MBA Programmes
Source: FT