Some Master's in Business Administration (MBA) degree programmes overall are evolving from more generalised business content to highly-focused curricula. Among these concentrations, or specialisations, is entrepreneurship.
Entrepreneurship – in all its forms – is no doubt a riskier choice for post-graduate students than some of the alternatives, but with the greater risk comes the potential for greater rewards. It is certainly a path for those who enjoy a good challenge.
Career paths for entrepreneurs
Starting their own business from scratch might be the most obvious career path for students interested in MBAs for entrepreneurship, but it is certainly not the only one. One might purchase an existing business, take over a family business, or start a franchise, to name a few others. At Babson College (US), all these aspects of entrepreneurship can be explored through its innovative entrepreneurship curriculum.
Armed with an MBA degree as a credential, a student who develops a strong network of contacts through a degree programme as focused as entrepreneurship might decide to use the skills gained to become a consultant or advisor to small businesses and start-up ventures, either as an individual consultant or as part of a firm. Or, with a little venture capital or the right contacts, an MBA graduate could become an investor in start-ups, using his or her advanced knowledge to evaluate pitches for the likelihood of success.
Typical curricula of MBAs for entrepreneurship
Students with a passion for entrepreneurship can find a number of MBA programmes that offer some unique advantages. The MBA programme at HEC Paris (France) offers a specialisation in entrepreneurship, and part of its programme includes team projects that work on start-up venture simulations, mentorship from experienced entrepreneurs, and membership to a state-of-the-art entrepreneurial lab (eLab) with cutting-edge technology. According to the HEC website, "the eLab also acts as a meeting point where inventors, scientists, venture capitalists, lawyers, alumni are invited to share their ideas and knowledge…"
Many B-schools and universities have their course catalogues online for your perusal, so you can do preliminary research on the core courses required and even on which electives you might choose. For example, Harvard Business School's (US) MBA degree programme allows a student to specialise in Entrepreneurial Management and take elective courses that focus on topics as narrow as healthcare IT, product management, and technology ventures.
With a specialisation in entrepreneurship, you can expect to receive a very in-depth education in many aspects of business start-ups. Some courses go far beyond writing a business plan or managing capital. A few of the entrepreneurship electives offered by Hult International Business School (US) have titles such as "Big Data Analytics," "Disruptive Business Models," and "The Next Uber: Strategy in the Sharing Economy."
Even if a school does not provide you with an MBA that officially denotes a specialisation or major in entrepreneurship, you may still be able to tailor your courses to suit your specific goals. At INSEAD (France), every MBA graduate receives the same diploma, but the MBA programme allows you to choose from over 75 electives across two campuses, giving you the flexibility to focus exclusively on entrepreneurship or combine it with one or more other focused topics, such as finance or management.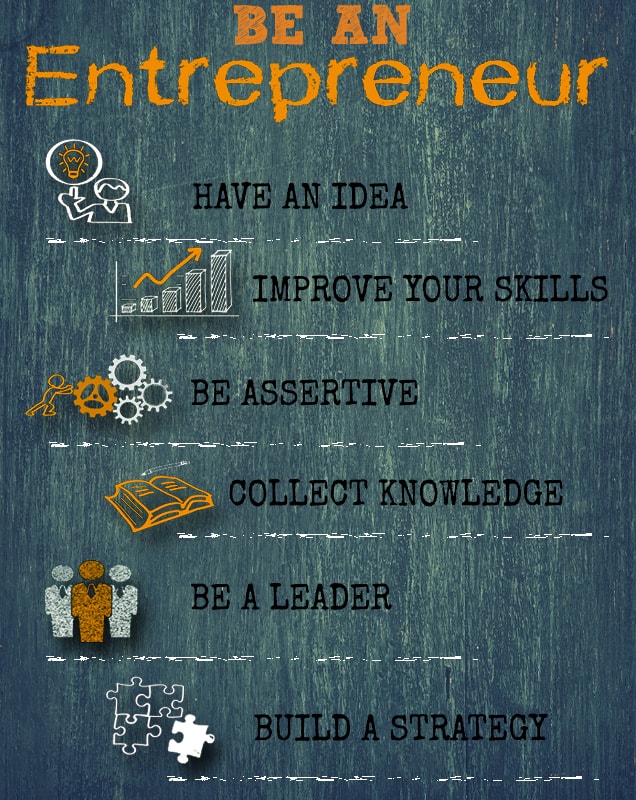 Top 25 best MBAs for entrepreneurship
There are several sources that rank post-graduate degree programmes around the world and publish the results for the benefit of students searching for the right path to further their ambitions. These rankings are based on factors such as surveys of administrators, recruiters, and alumni; qualifications of faculty members; faculty-to-student ratios; and the job placement success and starting salaries of programme graduates.
One of the most renowned sources for such rankings is The Financial Times (FT), based out of London. Since market demand for MBA programmes that provide entrepreneurial training and education is growing, FT has expanded its ranking list to include specialisations. In June 2016, FT released its ranking of the top 25 MBAs for entrepreneurship around the world.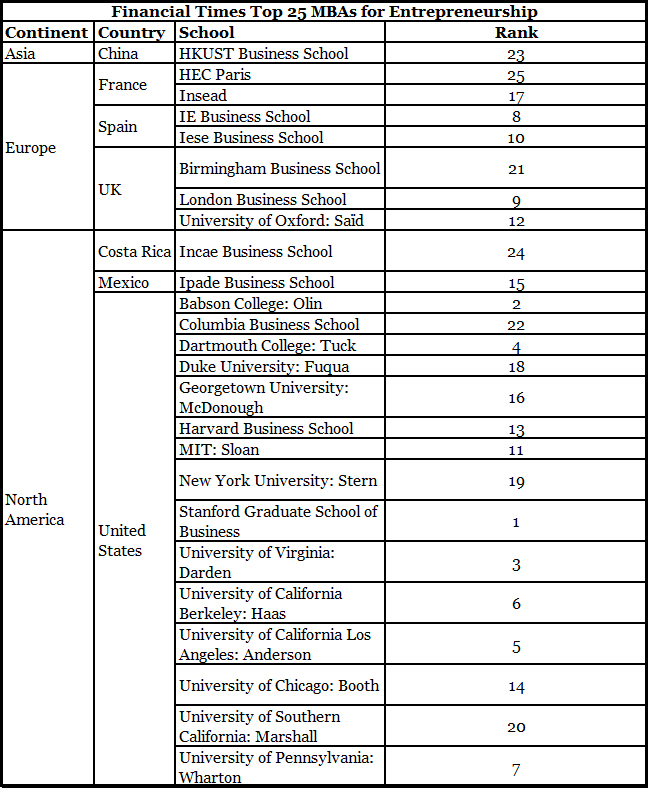 In years past, an MBA was a natural educational progression for aspiring students and professionals looking to expand skills or credibility for their corporate career. Now, as entrepreneurial opportunities in the global marketplace continue to expand, so has the demand for – and availability of – MBA programmes focused mostly on entrepreneurship. The right programme can be a catalyst for your entrepreneurial aspirations, allowing you not only level playing ground on which to compete, but the foundational skills to thrive in your chosen field.