The acceptance letter is the document that informs you of the final decision of the admissions committee about your application. Actually decisions are more than just 'accepted' or 'rejected'. Below are the possible positive outcomes of an MBA or Master's application for admission.
Being put on a waitlist is generally a positive sign for your chances of admission. Business schools will ask you in writing whether you would accept being put on the waitlist. If you decline, your application to the school is at an end, as with a rejection for admission. If you accept to be put on the waitlist you should inform the school in writing. This is an excellent chance for you to communicate to the school any fresh information about relevant developments and accomplishments which have taken place since you submitted your application. Before you reply, take a critical look at your application and decide whether to get advice from an independent admissions expert about what further information will improve your chances of admission. Your reply to the school should be well thought through, because it is part of your application package.
Some schools use a process called conditional admission. This means that you are accepted onto the programme, but you cannot enrol if you do not meet some requirements prior to the start of term or by a deadline set by the school. These requirements might be, for example, an additional test or a prerequisite course.
"Congratulations! You have been admitted to the MBA/Master's programme for the class of …" The letter of admission is a confirmation that you can enrol in the programme of your choice. This letter usually specifies a deadline for paying your enrolment confirmation deposit. This fee is usually non-refundable so if you do not enrol into the programme, it will not be refunded. If you do enrol in the programme, the deposit will usually be deducted from your tuition fee.
If you - as with most graduate school applicants - are also waiting to hear from other schools, you might be in a situation where the deadlines for different schools will not work in your favour. To be on the safe side, you may wish to pay deposits until you have received replies from the rest of the schools and then you can decide where to enrol. This means that you will lose some deposits, but at you will be able to make a real choice between all universities that have admitted you.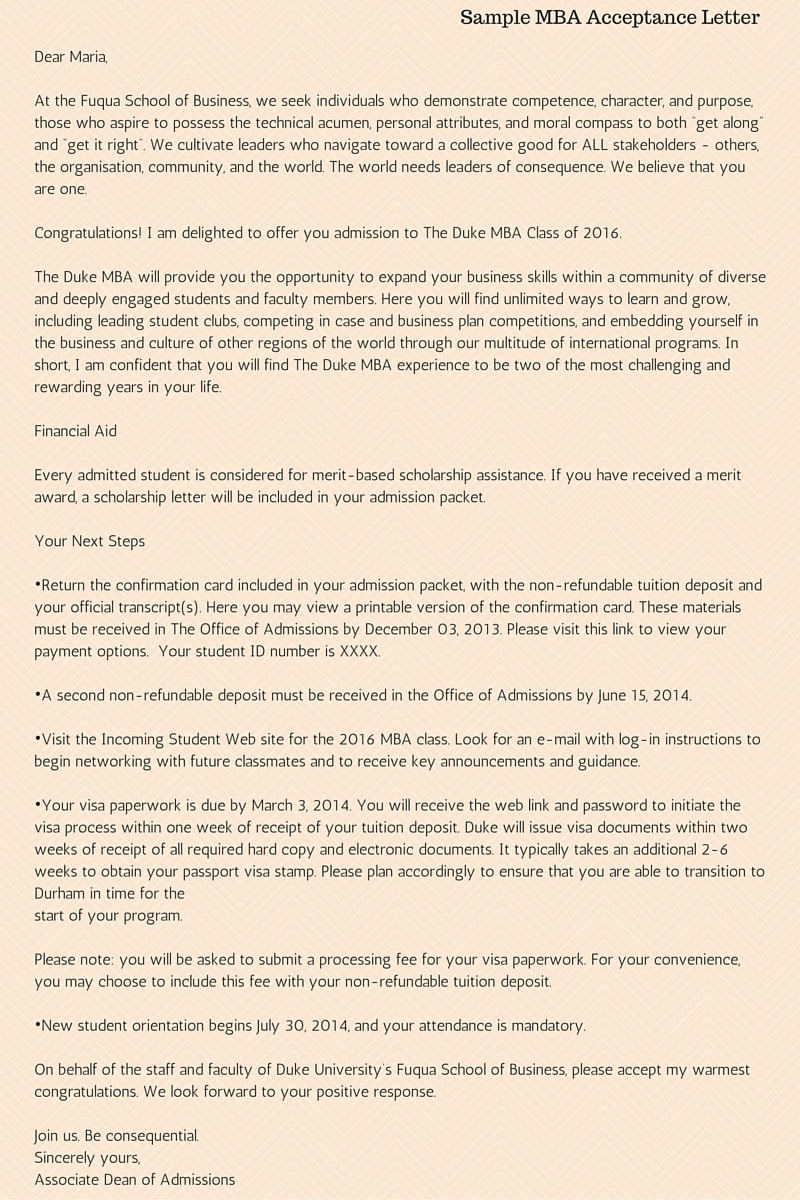 Next steps
After you receive the acceptance letter you should take quick action to plan your final school choice, confirm the enrolment, acquire visa documents, etc.
After living your moment of happiness and spreading the good news to your close friends, you should write a thank-you letter to the admissions office of the business school.
It is also a good idea to inform your recommenders that you have been admitted. After all they supported your application and it is always nice for them to hear that you succeeded.
Say thank you also to all the other people who contributed to your success including your test preparation instructors, people who advised you on school selection and preparing the application, family, friends and colleagues.
If you are accepted in several business schools you should decide where you will actually enrol. This is not an easy choice to make. The situation may be aggravated if you don't hear from all schools shortly while the confirmation deadlines for the rest are pressing on you. In this case you may need to sacrifice either a school or some financial resources for a confirmation deposit so that you can keep your place in one or two schools while you wait for the decisions from the rest. Overall this is a tough moment.
Adhere strictly to all deadlines, because if you miss paying the confirmation deposit on time, your seat in the MBA or Master's programme will be offered to a student on the waiting list.
Do not hesitate to contact the relevant offices of the business school with any questions which you may have.
Arrange for visa documents
Although a formal document the acceptance letter is not enough for a visa application. In some cases business schools should issue additional formal documents that you will need to present to the embassy/consular office. Also, there are supporting documents that you should request from other institutions, banks, etc.
Start early as the visa process takes time. Getting a visa is also important for planning your travel. Acceptance onto a graduate programme does not guarantee that you will be issued a visa. The decision is solely at the discretion of the Consular Office. So, apply early.
Request a payment schedule
Once you decide where to enrol, request a payment schedule for your tuition, fees and related costs. This is important for planning your budget and making sure you have all resources on time. Actually you could request the payment schedule before you decide where to enrol as it may affect your final decision.
If you are planning to apply for a student loan, this is usually the right time. Just as with visa application, do not postpone it, as the process takes time. You will need the letter of acceptance and the payment schedule to present to the bank along with other supporting documents. Of course, you should have selected a bank for your loan in advance and be informed about all the conditions.
Celebrate. Finally, the time has come for you to celebrate. Admission to an MBA or a Master's degree programme is always a challenge and a great success which deserves a reward.