Walk the grounds between buildings. Sample the local food and culture. Talk to the students, faculty, and administrators. Even just one or two days spent immersing yourself in the university's environment will assist you in making that final, important decision of where to pursue your post-graduate study.
Benefits of campus visits
If you have ever looked at an online real estate listing for a house for sale, you know it is chock full of information: number of beds and baths, year built, types of flooring, etc. Yet, it is rare for someone to purchase a home online, sight unseen. Why? Because instinctively we realise there are far more factors than can be felt by looking at even a dozen or more online pictures or reading a description from a website. The same holds true for the university you are considering.
A visit to the place at which you will spend a large, and important, portion of your near-term life holds many benefits. Not only will you get a gut-level instinct for whether this is the right place for you, but it will prepare you immensely for your arrival and jump-start your campus life.
Advice for visiting a university campus
Once you have decided to visit a campus, be sure to reach out to the admissions department or local student groups. With enough notice, it's often possible for a guided tour of the campus on the day of your visit, even on a weekend. You might be able to schedule an appointment with a representative of the admissions department to discuss your interest in attending. At the least, the department staff will know how seriously you are taking the decision and how much you want the experience to be a success.
Before you go, prepare some questions you would like to get answered and a list of things you would like to do or see while you're there. You won't get a similar opportunity again before committing to furthering your education there.
What to do during a business school visit?
When you visit the campus, you want to delve into the student experience in the best way possible, so imagine a typical day there and do what the students do. Eat in the school's dining hall, pick up a copy of any college publications such as the student-run newspaper, visit the gymnasiums or athletic facilities, and sample the nightlife, remembering to talk to as many random students as you can in order to get a variety of perspectives.
Check out: MBA Admission Tips: Business School Campus Visits (Video)
Most universities offer a guided tour for which you can reserve space, or there may be a student ambassador who will meet you and take you around. Soak up as much knowledge as you can from those experiences. They are great opportunities to get most or all of your more formal questions answered. Also, stop by the college of business during faculty office hours. Try to talk to one or more of the professors to gauge their accessibility, knowledge, and friendliness.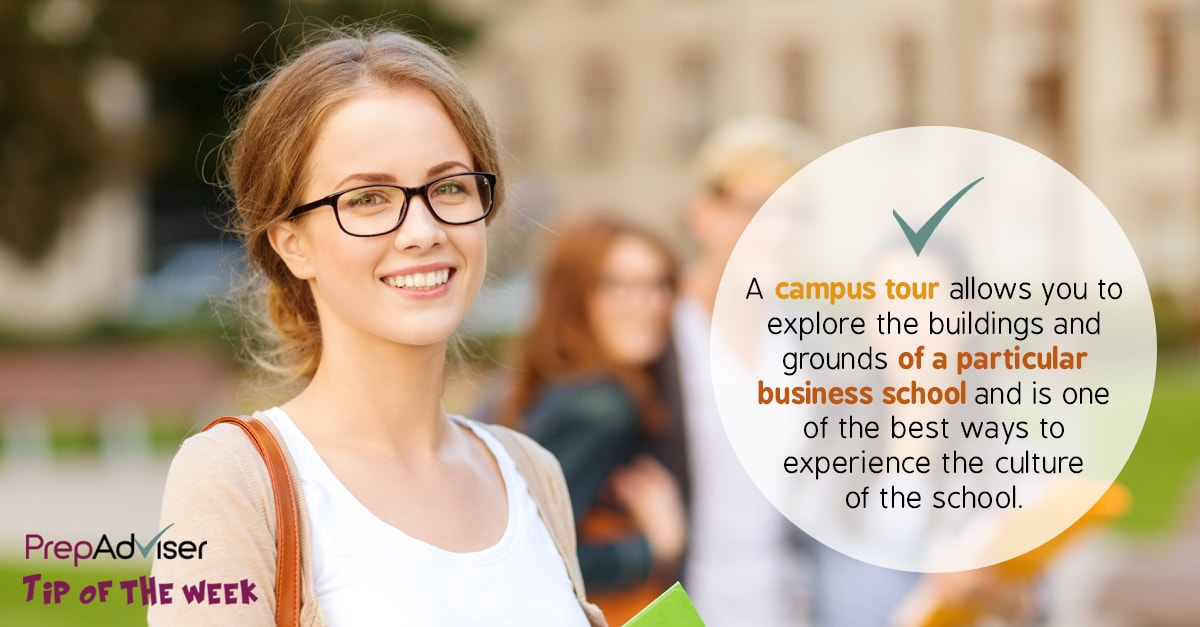 When should you visit a university campus?
It is highly recommended that you plan your campus visit during a regular session, when students are everywhere, staff is not reduced, and the all-around vibe of the campus can be felt in full. Touring a deserted campus during an extended holiday or between main sessions does not offer a good representation of the environment you will experience as a student. Imagine Hyde Park on a cold winter's day versus a sunny summer's day. No comparison.
Check out: Student Life and Services in Masters Programmes
If your schedule only allows a college visit during a summer or recess, do your best to imagine the surroundings bustling with student activity. Talk to some students who have experienced campus life both during and between busy semesters about the differences.
Campus visit options offered by B-schools
While most colleges have a protocol for standard campus visits, your situation is a bit different. You likely have already had the traditional four-year college experience and your needs and expectations may be very different now that you are preparing for a Masters or an MBA programme. For example, school athletic programmes are probably far less important to you than job placement centres.
Instead of starting with the standard admissions office, see if the post-graduate admissions department offers something a little more specialised. Some will roll out the red carpet for you; some may be inaccessible. Both types will show you how receptive faculty and administration will be to your needs.
Only you know what appeals to you most; no one else's opinion is exactly the same as yours. Your university experience will be as unique as you are. Make sure you choose a comfortable, tailored atmosphere, one in which you can thrive.
[interaction id="5853ab2f8780aab73878adf0"]