European MBAs favour more experienced students
European MBA programmes attract more mature professionals. Many of the leading business schools in Europe, and certainly those with triple accreditation (AMBA, EQUIS, AACSB), require that applicants have at least three years of full-time work experience to be considered for admission. Consequently, the average age (30 years) of European MBA class is higher compared to the age (28 years) in US business schools.
School admission tests instead of GMAT or GRE
Another feature of admission to European MBA programmes is that they are not so focused on the results of standardised tests such as the GMAT or the GRE. Admission to many top European MBA programmes, such as INSEAD, IE or Copenhagen Business School, is possible on the basis of a school admission test instead of the GMAT or GRE.
Let's take as an example the IE Global Admissions Test (ieGAT), which has been developed as a means of determining a candidate's ability to make management‐style decisions under pressure. The exam is aimed at an international audience, with a diversity of educational backgrounds and thus does not favour any particular educational system or area of study. It is a practical exam presenting participants with real life situations. This exam determines participants' ability to process information and think strategically, rather than to repeat previously studied patterns or equations.
Importantly, no preparation is required for school admission exams. This saves the time (at least 3 or 4 months) and the money (up to several thousand euros) that is usually required for GMAT or GRE preparation resulting in a high score.
In addition to offering school admissions tests, European MBA programmes often do not require the GMAT, or do not fix a minimum score. Nevertheless, often the test is recommended or required for some scholarship programmes.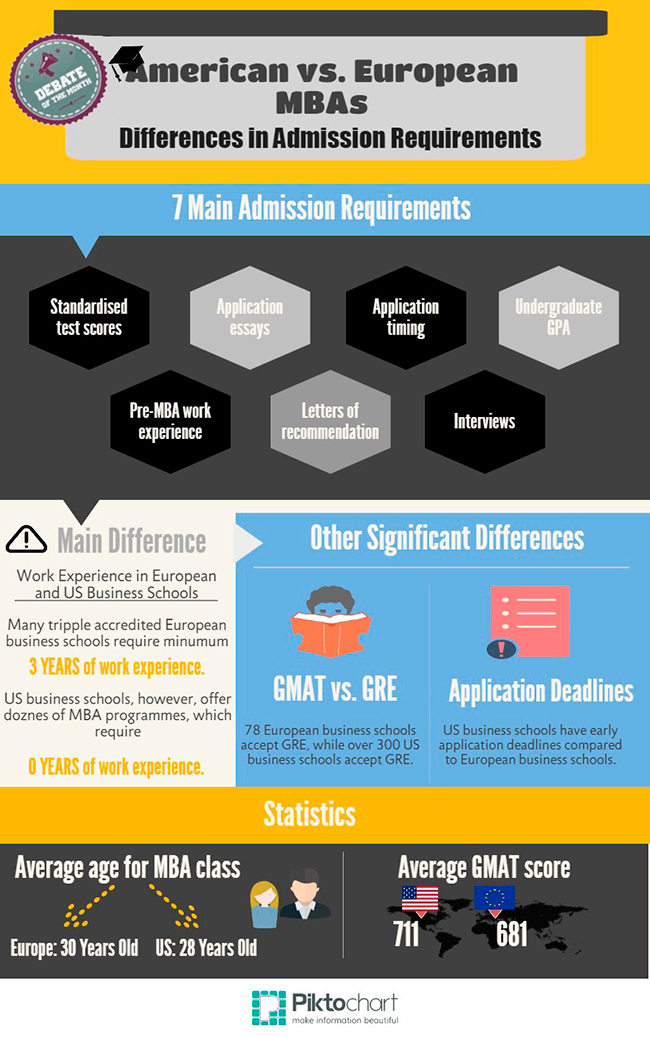 Preference for GMAT vs. GRE
Unlike US business schools, European universities are not yet very welcoming to the GRE as an alternative to the GMAT. Although the number of graduate schools that accept the GRE is growing, you still have many more options with the GRE in the US than in other parts of the world.
Check all the differences in GRE vs. GMAT infographic
However, when it comes to language proficiency tests, the TOEFL (owned by the Educational Testing Service, just like the GRE) is widely accepted along with its British counterpart, IELTS.
Complex evaluation of the European MBA application
Not only are European business schools more flexible about which tests they accept, but they do not place such a great weight on the scores as US business schools. The evidence lies in the average GMAT scores of top business schools globally. In 2013, the average GMAT score of the top 10 European MBAs, listed in the FT Global MBA Ranking, was 681 (range 650 - 704), compared to the 30 point higher average score of 711 (range 670 – 730) in the top 10 US MBAs listed in the same ranking.
The evaluation of the MBA application is complex and many different factors are considered. However, in top US business schools, overcrowded with applicants, the GMAT score provides an easy cutting line to be used in pre-selection. So your application may not even be considered if your GMAT score is below a certain minimum.
Shorter application and rolling admission
In June 2014, Harvard Business School announced its earliest ever application deadline for Round 1 applications for the autumn 2015 intake – 9 September 2014. This means that the most committed applicants for admission to the HBS should have started their test preparation no later than the spring of 2014.
This is just an illustration that US universities overall have quite early application deadlines compared to European schools. It is true that the academic year starts earlier in the US (mid-August) than in Europe (end-September/October), but still the difference in application deadlines is considerable, with deadlines for European MBAs extending late into the spring of the year you plan to begin your studies.
Another advantage of the admission process to many European MBAs is that they practise a 'rolling admission'. This means that they review applications as they come in, up to five cycles per application period for one intake.
Better chance to get interviewed
The MBA admissions interview may really be a turning point in your application. There are several scenarios for being invited to an interview – the Admissions Committee needs to decide whether to admit you, to give you a scholarship or to turn down your application for admission. So, being invited to an interview is always another opportunity to improve your chance of admission.
Clearly, European MBAs can interview a higher portion of the applicants, as they have higher admission rates. Some of the most selective business schools in Europe such as LBS and HEC have MBA admission rates of about 15%. Some of the most selective top US MBAs attract close to 10,000 applicants per intake, which keeps their admission rates between 8% and 10%. Harvard Business School interviews only about 4% of its applicants.
Application for admission to European MBA programmes is really more applicant-friendly compared to the practice of US business schools. Nonetheless, MBA applicants need excellent time management, planning and discipline to prepare a competitive application for admission to any MBA programme.
Don't forget that the intention of our Debate of the Month is to offer you current trends and up-to-date statistics and facts about each topic that we choose. But it is you who will help us determine the winner of each debate! Ask questions below each article and share your opinion because your contribution counts!
Read the opinion of the opponent in "US MBA Admission Requirements Give More Flexibility"
Check out all debate topics at American vs European MBAs.