The Statement of Purpose may very well be one of the most difficult essays you ever write and, needless to say, one of the most important.
However, there is no need to get stressed as there is a simple solution to writing an effective and impressive statement of purpose. If you want to stand out from the rest of the applicants, make a long-lasting statement, and clearly convey your message, here are some simple tips on how to write an impressive statement of purpose.
Be Unique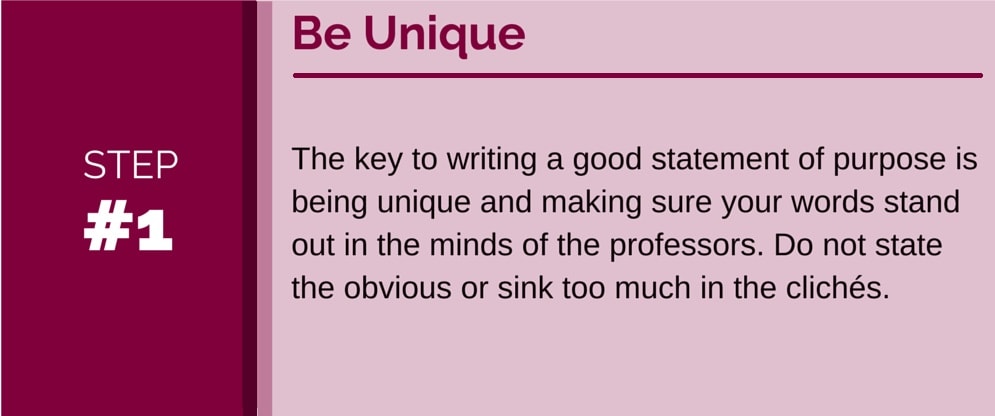 The admissions officers and professors who are going to be reviewing your statement of purpose have hundreds of other applications to read and most of them will talk about the same thing. The key to writing a good statement of purpose is being unique and making sure your words stand out in the minds of the readers. Instead of stating the obvious such as "I am honoured to apply to this programme because I wish to expand my knowledge", make sure you make your opening paragraph interesting. For example, you may want to start with an anecdote, a quote, or some experience that is applicable to the reason you want to apply for that particular programme.
Do not state the obvious or sink too much in the clichés such as "expand my knowledge", "boost my career", etc. Think of it as conveying your personality to another person and think of how you want them to perceive you.
Be Clear and Concise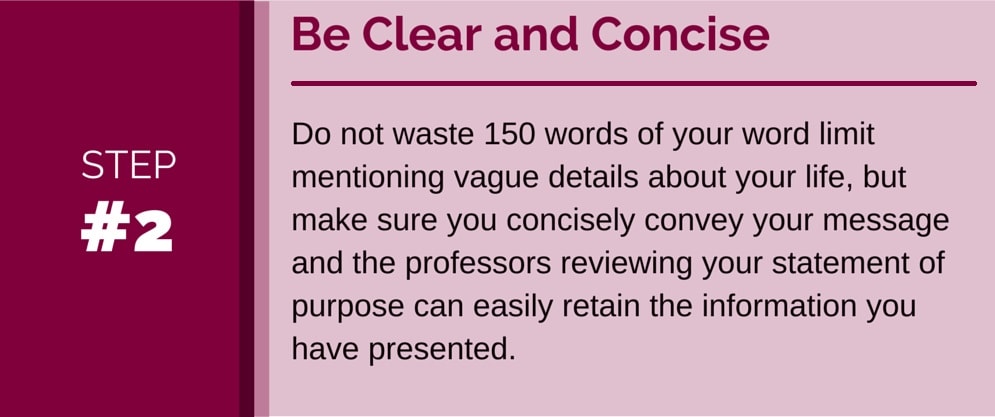 After mentioning the first point of being unique, it is also important to remind you that a good statement of purpose is clear and concise. You have a limited amount of words that you can use and you do not want to waste them by beating around the bush. While you may begin with an experience, anecdote, quote, or whatever you think makes you stand out, make sure you convey your message in as few words as possible.
Do not waste 150 words of your word limit mentioning vague details about your life, but make sure that the people reviewing your statement of purpose can easily retain the information you have presented. For example,
One day when I was 11, my dad was experiencing trouble with his car and because of the height of frustration he was experiencing, I was compelled to lift the hood and attempt to find a solution. Ever since, I have been fascinated with cars and I later decided I want to be a mechanical engineer.
This begins in a unique way, does not sound repetitive or long, and clearly conveys the inspiration for joining a particular Master's programme.
Choose Vocabulary Carefully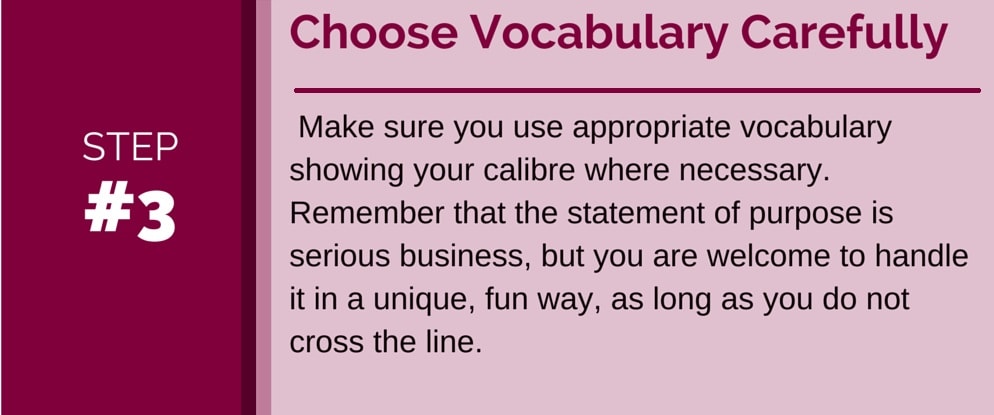 Choose your vocabulary carefully as that makes all the difference in determining the tone of your statement of purpose. Do not overuse big words and do not simplify to the extent that it would seem as if a fifth grader wrote it. No need to raid the thesaurus for every word in your statement, but make sure you use appropriate vocabulary showing your calibre where necessary.
You may be slightly humorous if you wish to be, yet refrain from sounding arrogant, non-serious, or ridiculous. Make sure the language you use is appropriate and not offensive to anyone and avoid using slang. Remember that the statement of purpose is serious business, but you are welcome to handle it in a unique, fun way, as long as you do not cross the line. For example, if you are applying for a creative course, it may do well to show sparks of creativity in your statement of purpose.
Proofread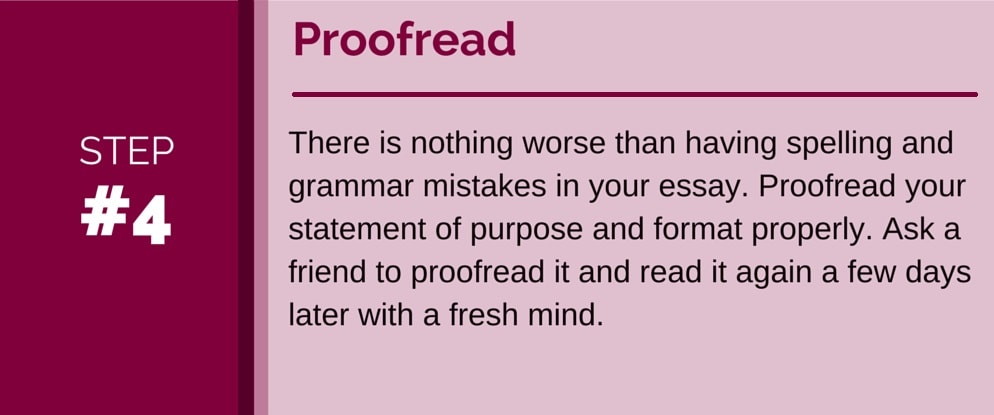 Last but not least, make sure you proofread your statement of purpose. There is nothing worse than having spelling and grammar mistakes in a document in which you are applying for post-graduate education. Proofread your statement of purpose and format it properly. Also it might be a good idea to ask a friend to proofread it and give you some suggestions for improvement.
After you have finished, leave the statement of purpose for a few days and then read it again with a fresh mind. Incorporate any suggestions from friends and/or changes you think are necessary, and re-read your final draft to make sure it is picture perfect and well polished. Now you are ready to hit the "send" button and send it on its way to your university for the Master's programme of your choice.