The GMAT challenge
The Graduate Management Admission Test (GMAT) is one of the important elements of your application for admission to international business schools for MBA or Master's degree programmes.
The GMAT is a challenging test with its duration of three and a half hours, computer-adaptive format carefully selecting the difficulty level of each question and its four sections – Analytical Writing Assessment (AWA), Integrated Reasoning (IR), Quantitative, and Verbal.
Why the GMAT Exam is Challenging (Video)
The AWA measures your ability to think critically and to communicate your ideas in writing. You will have 30 minutes to analyse the reasoning behind a given argument and write a critique of that argument.
The GMAT Analytical Writing Assessment Section (Video)
The Integrated Reasoning section (introduced in 2012 upon request of leading b-schools) measures your ability to evaluate information presented in multiple formats from multiple sources - tables, Excel sheets, graphs, chart, etc. IR evaluates the level of those skills that you need to succeed in our technologically advanced, data-driven world.
The GMAT Integrated Reasoning Section (Video)
The Quantitative, a.k.a. the "Maths" section, measures your ability to analyse data and draw conclusions using reasoning skills. The level of mathematics needed to understand and solve the questions in this section of the GMAT exam is no higher than what is generally taught in secondary school classes.
The GMAT Quantitative Section (Video)
The Verbal section measures your ability to read and understand written material, to evaluate arguments, and to correct written material to conform to standard written English.
The GMAT Verbal Section (Video)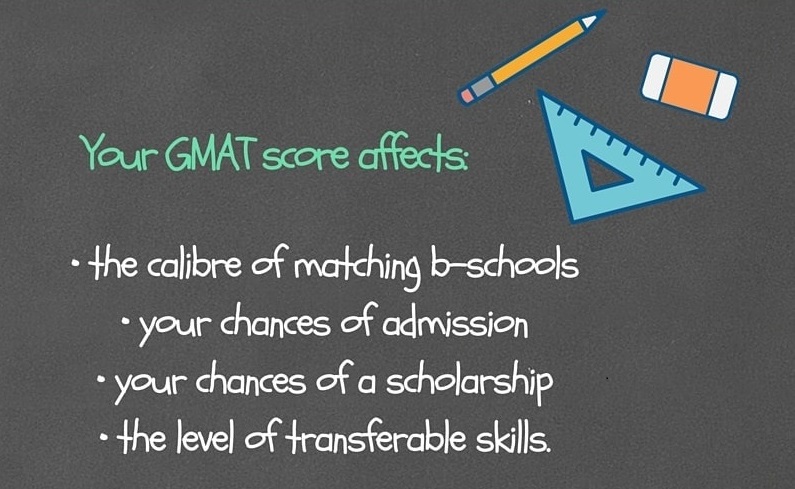 The GMAT test taker
Successful GMAT test takers commit about 100 hours to study and practice for the GMAT exam. They are usually spread over three or four months.
If you are concerned that you do not have enough time for GMAT preparation because you have a job and other personal and social commitments, unfortunately, this is no excuse. Some people take the GMAT while still finalising their Bachelor's degree studies. In their final year they certainly have a heavy work-load, with coursework, term papers and final exams.
Most GMAT test takers are busy professionals just like you. All of you have a full-time job, busy schedules, and struggle to get that dream "work-life" balance. How to squeeze the GMAT into this reality?
The effective way to prepare
Bearing in mind the complexity of the test and the busy schedules of most test takers, the best practical approach towards effective preparation is to work with professional GMAT instructors. Someone to guide you, keep you accountable, check your progress and make amendments to your prep strategy as needed, so that you can achieve the best results within the time limit you have set.
Whether you join a course or work with a tutor one-to-one, guidance will make a major difference. You can attend traditional GMAT courses or join online preparation classes. You can even work with a tutor online. There are online preparation platforms combined with intensive tutor interaction as well.
Of course, any guided preparation should be combined with self-study and a lot of practice. But these should also be done in the right order and at the right time to ensure progress, otherwise you can easily get stuck and demotivated or frustrated.
Finally, GMAT preparation is not just about achieving a score. It aims to develop skills that are essential for success in business school and your post-graduation management career.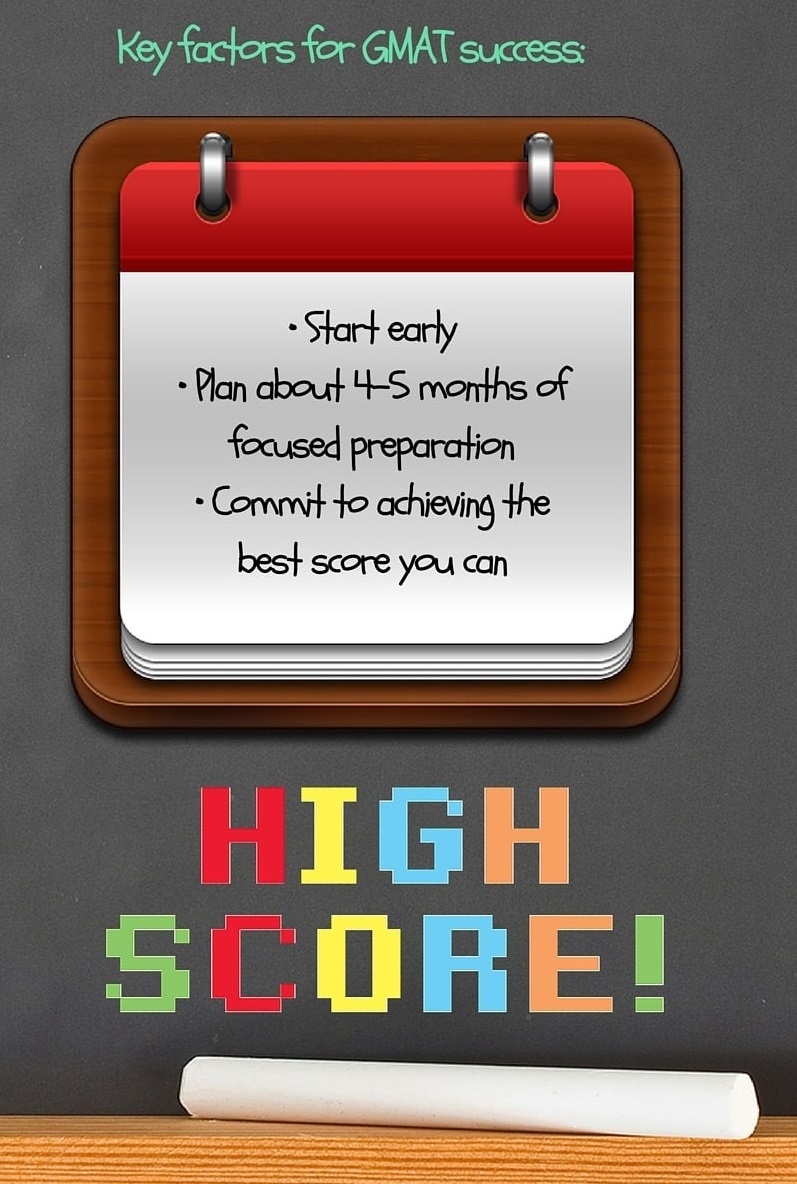 How to select a GMAT preparation course
Build knowledge
The GMAT requires knowledge of Maths and Standard English language. There are different elements that you should master in order to ensure that you have the necessary foundation. Without going into detail here, you will need to refresh your knowledge of calculus, algebra and geometry. In English you will need to brush up on your grammar, vocabulary, spelling and speed of reading and writing.
So, make sure that you select a course or a tutor who will take the time to check your starting level and support you in building a solid foundation. Starting out with gaps in your knowledge can block your progress, generate frustration and slow-down your preparation.
Develop skills
It is common sense to remember that every problem can be approached in a variety of different ways. Likewise, there are approaches which are better suited for the GMAT than others, for example, because they can save you time.
That is why it is important to work with professionals who not only are experts in teaching Maths or English, but who know the GMAT exam, how the test makers think and how the computer adaptive GMAT format works.
However, someone who just took the GMAT - even with a top score - does not necessarily make a great GMAT instructor. So, identify professional GMAT instructors who can help you apply your Maths and English knowledge in each of the four sections of the test – AWA, IR, Quantitative and Verbal.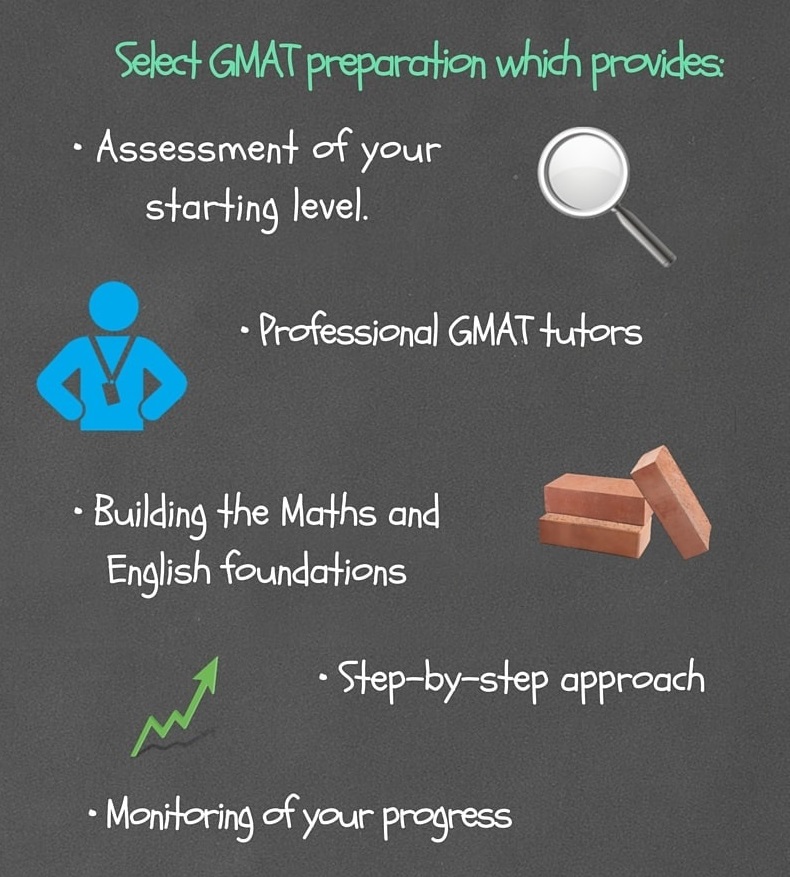 Practice
In addition to developing the skills, practice is important to monitor your progress and make amendments to your preparation strategy.
After you have developed a strong foundation you will begin to work on different types of questions in each section. Drilling a single type of question until you are confident ensures the speed you need for the actual exam and helps you to keep your concentration levels high.
When you begin to prepare, you should practice questions by level of difficulty and increase the challenges step-by-step. As you advance, you should replicate the realistic conditions of the test with a mix of questions, a time limit and work with full-length tests.
Let's not forget the unique feature of the GMAT - its computer adaptive format. When you select your GMAT preparation resources try to access computer adaptive tests with realistic questions. This helps you prepare adequately and create the right expectations. Usually, the score on mock/practice tests is lower than the one on the actual test. The difference is usually about 50 points. So, the more realistic your practice, the better your skills and your performance will be closer to your actual score.
Timeframe
Start early. The GMAT score is valid for five years and it is never too early to take it, so do so as soon as you are ready. You should take the test no later than a month before the application deadline. Ideally, you should take the test before you shortlist your b-schools, so that you can adjust school selection and application to your actual score.
If you have to squeeze your preparation into a shorter time-fame, find intensive study options. Allow about a month after you complete a GMAT course for further practice and before you take the test. Some "on-demand" courses and tutoring can be an excellent option in this case.
Budget
Be ready to commit a budget to your GMAT preparation, because a high GMAT score can help you win a scholarship and gain admission to a high calibre school. In addition, the GMAT skills are transferable outside of the b-school classroom. So don't see this investment only in the context of your application for admission.
Given the growing number of online GMAT preparation courses, access to high-quality preparation is now at your fingertips. Make sure you opt for GMAT guidance that will provide you with the knowledge and skills for b-school and post-graduation success.