One of the best ways to start your business school preparation is by getting to know the value of GRE scores for MBA and Master's admission.
The GRE General Test is designed for prospective applicants from around the world who are interested in pursuing an MBA, Master's, or doctoral degree. If you are considering any of these study options, this type of aptitude test may be among the requirements you will need to fulfil.
As you will find out soon enough, the secret behind the best GRE scores is solid preparation, knowledge of the test format, and working hard to improve the test taker's weak spots.
Keep on reading to discover more about the logic of GRE scoring and the result you need to aim for to get admitted to a reputable school.
What is the GRE test format?
The GRE General Test consists of three sections – Verbal Reasoning, Quantitative Reasoning, and Analytical Writing. The Verbal Reasoning and Quantitative Reasoning GRE scores range from 130 to 170 and are increased by one point each. The Analytical Writing section is scored between zero and six with half point increments.
Check out: Anxiety Management Techniques for GMAT and GRE Test Takers
Each section receives an individual score to show your competency in each of the measured skills. The Quantitative Reasoning and Verbal Reasoning sections are section adaptive. This means that the difficulty of the questions increases if you keep solving them correctly. The GRE scores are then equated to account for difficulty.
The Analytical Writing section consists of two separately timed writing tasks which are averaged together to create the final score.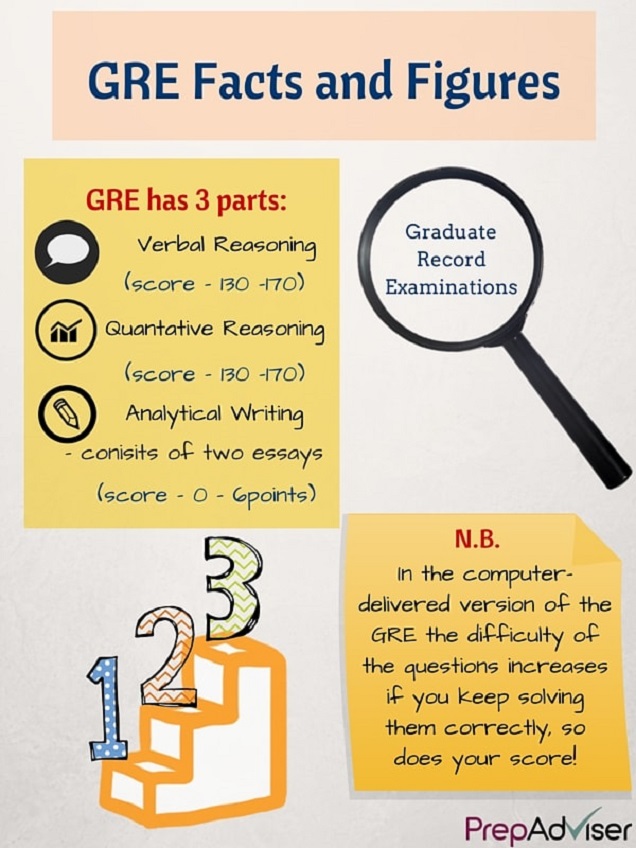 What are the top GRE scores for MBA and Master's admission?
So you want to know what is considered a good GRE score? According to test prep professionals, a good GRE score is anything between 250 and 330. However, each business school has its own criteria for aptitude test scores. For example, while there is no minimum GMAT or GRE score required to apply to Yale School of Management, the median GRE score for its MBA is 164 for both the Verbal Reasoning section and the Quantitative Reasoning section.
Generally, MBA programs tend to be more competitive than Master's programs and therefore may require slightly higher GRE scores.
However, the GRE score required for admission into a particular program may depend on the relative GRE scores of other applicants. It is best to aim as high as possible and score at least 300 for A-list business schools, while 250-300 may be adequate for B-list business schools.
"Some schools may have higher or lower GRE score requirements and therefore it is important for the applicant to learn the minimum score for the program they are applying to," Andrew Selepak, director of the graduate program in social media at the University of Florida, highlights for U.S. News & World Report. "But a few points higher or lower can make all the difference when applying for graduate school and it is important for the applicant to not only keep this in mind, but to also know the minimum score required."
Check out: Taking the GRE at Home: What to Expect
GRE vs. GMAT for business school
The pool of candidates using GRE scores for MBA and Master's application is growing. As the GRE and the GMAT have completely different formats, the GRE is first equalized with GMAT scores to assess how well a candidate has performed in comparison to a candidate submitting a GMAT score.
A-list business schools did not previously accept GRE scores but now an increasing number of them are doing so to increase their pool of candidates. Harvard, Yale, MIT, INSEAD, and other prominent business schools have all opened their doors to GRE test takers. In addition, more and more of the B-list business schools are starting to accept GRE scores.
While GRE scores differ from GMAT scores and many business schools are new to the process of assessing GRE scores for MBA and Master's admission, candidates that have taken the GRE are not at a disadvantage. Just remember that it is important to ensure your Verbal Reasoning and Quantitative Reasoning scores are similarly high.
When it comes to the exams' difficulty, the GRE and the GMAT are comparable. So if you get a top result on one of the tests, you might also get a high score on the other.
However, taking the GRE provides more flexibility when choosing a Master's program while the GMAT may be restricted to specifically business and management programs.
Whether you end up choosing the GRE General Test, give it your best shot! You may have to take the exam multiple times to achieve your required score or you may achieve your score in one shot. Whatever the case may be, study hard and persevere!
Check out: How to Pick: GRE General Test or GRE Subject Test