Dropping out of a business school is not uncommon. Some people are concerned about how this will affect their profile and CV, especially if they have been admitted to a highly-ranked programme. You can find questions like these on social media: "Dropped out of top-20 MBA: Should I mention the MBA on my resume?" or "Why do some MBA students drop-out after one semester?" On the other hand you can find encouraging articles such as 9 Successful MBA Dropouts. Finally, you can read analysis about the common reasons for dropping out of a top business school. So MBA drop out and graduation seems to be a hot topic.
A rigorous selection process prevents high drop-out rates
Most MBA programmes have a similar admissions process regardless of location. Even programmes in countries with mass higher education policies (where the actual selection is conducted during the course of studies and only the best students gain a degree) stick to a rigorous MBA selection process that aims to identify those apt to succeed.
Ann Ferren, former Dean at the American University in Bulgaria (AUBG), explains that the admissions decision guarantees that the student has the potential to succeed. The extensive MBA application process enables Admissions Committees to evaluate applicants' skills carefully, and their motivation for pursuing an MBA. The application package usually consists of an application form, CV/resume, essays, recommendations, aptitude tests (GMAT, GRE, school tests), English language exams (TOELF, IELTS). In addition, an admissions interview is conducted, but some business schools (B-schools) dedicate an entire day to assessment that can include presentations, work on business cases, group tasks and a personal interview.
Some top business schools admit just a tiny portion of all applicants – selecting the best 5% to 15% of the applicants' pool. The most attractive MBA programmes receive close to 10,000 applications per intake.
Check out: How to Get Admitted – Think Beyond MBA Admission
IMD Business School (Switzerland) graduates over 100 MBA students per year. About 3% drop out for different reasons. "It happens once in a while that students quit their studies," shares Dariu Dumitru, EMBA Partner, IMD Business School.
Common reasons for MBA drop-out
MBA studies are challenging
The MBA degree is a highly reputable qualification, but MBA studies are usually quite challenging. Nitin Joseph shares on Quora:
In any MBA programme the first two semesters are extremely tough. They involve a lot of working, comprehension and grasping unfamiliar new concepts and courses, etc. Hence people who cannot bear the pressure do quit.
JJ Olsen adds that a few people in his programme just didn't realise how much work would be involved. But really, everyone has their own reasons. MBA dropouts occur for the same reasons as dropouts in any discipline.
The MBA curriculum covers a whole spectrum of disciplines in order to train aspiring managers how to run and grow businesses and become visionary leaders. MBA students come into the classroom with years of professional work experience, including some in managerial roles. Their educational background gives them an advantage in some areas, but they still have to learn a lot in others. For example, someone who has a Bachelor's or a Master's degree in Finance or Accounting may be challenged by the Human Resources courses and vice versa. Some MBA participants have solid hard skills, but are taken out of their comfort zone to develop their soft skills. Dariu Dumitru, IMD, advises:
It's important to find [when selecting a B-school] the right fit and the right atmosphere. The MBA is going to be engaging, fun, challenging.
Balancing commitments
For full-time MBA participants enrolment in an MBA programme may seem like simply replacing their job with studies. Even though they will be fully committed to their studies, they can invest more hours than they used to when they worked. However, part-time MBA formats and the Executive MBA programmes require balancing many commitments as well as your personal life with your demanding studies.
Petra Joerg, CEO of Rochester-Bern Executive Programmes, recommends that prospective MBA students should plan properly, and highlights:
It is always challenging to do an MBA and you never have enough time, be it a full-time or an Executive one.
Because the experience is really intense, B-schools try to give a lot of advance warning. NEOMA Business School (France) invites prospective applicants, before they even submit an application, to a counselling session with a programme representative to discuss in detail what the programme entails in terms of personal comitment.
Starting a business
A strong drive to start a business is another common reason for MBA participants to quit their studies. Even top B-school students sometimes do that.
Check out: Top 5 Entrepreneurs with MBA Degrees
"Dropping out is a no-loss situation," argues Steve Hind, Editor-in-Chief of The Harbus – the non-profit student news organization of Harvard Business School:
You've got a year of HBS experience and branding under your belt, and a "can't wait" opportunity. On top of that, the school will take you back, so even if the opportunity doesn't work out, all you've done is got an extra year or so of experience.
Check out: MBA Career Services are More Comprehensive
Follow your dreams
Some MBA students are just as inspired as Ethan Bernstein, who dropped out of HBS (US), to make a difference and follow their passions. He enthusiastically recommends for The Harbus:
Search for something that makes you truly happy. It probably won't be the first place you look and it probably won't be what everyone else is looking at. Then go for it.
Such situations are more likely to happen in two-year MBA programmes, rather than in one-year ones. Ultimately, MBA students are keen to make a career change or make a difference in an area they are passionate about. If that right time does come before MBA graduation, some do just seize the opportunity.
Other circumstances
Many other circumstances can force MBA participants to quit their studies e.g. family reasons, health issues. Cheri Thomas summarises more reasons in Quora:
The reasons vary. Some people are not well enough prepared academically. Some are trying to juggle too many competing demands on their time. Some find that it is just not a good fit for them, or that interesting. Some run out of money. Some perceive the pressure as more than they can handle emotionally.
Check out: The Best Way to Finance MBA Studies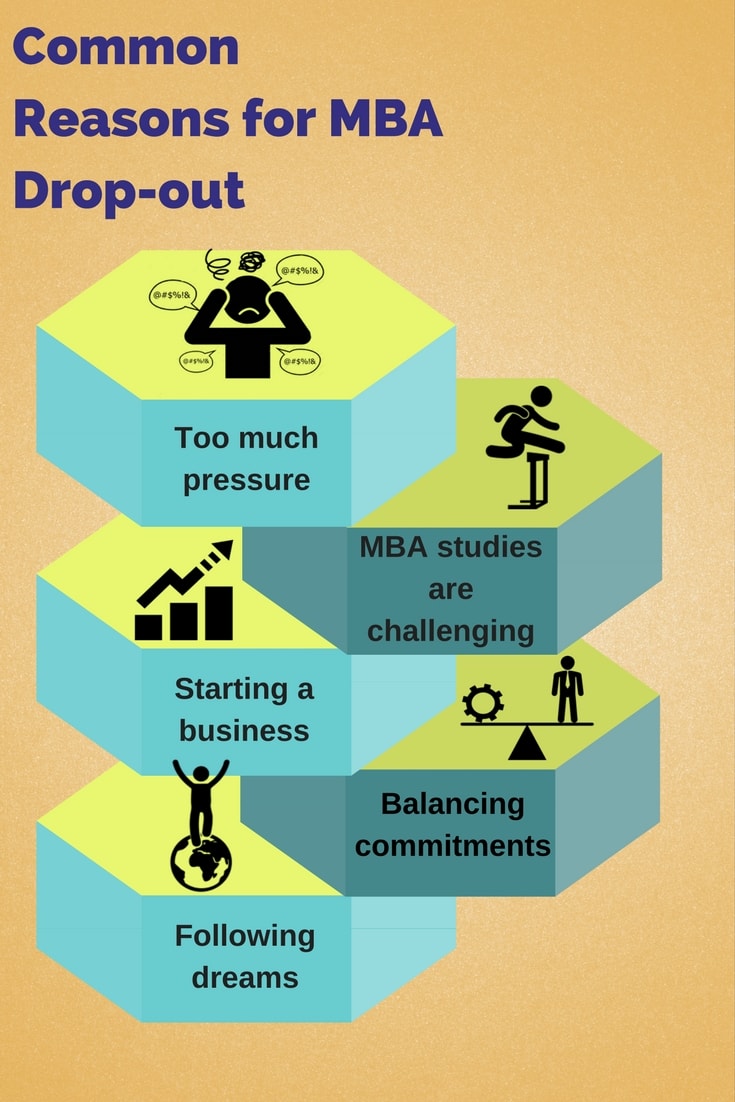 If you are committed to make MBA graduation a reality you should know really well what drives you to consider an MBA. You should also plan ahead, manage your stakeholders - such as your family and employer, and not neglect your hobbies. You should certainly prepare for an academically challenging programme and you should know that GMAT or GRE preparation helps you build some essential skills and stamina to succeed in B-school. Last, but not least – secure all the funds needed for the full course of your studies.
Finally, there is nothing wrong in quitting an MBA programme, as long as you feel comfortable with this decision and you make a really worthwhile next step. Still, if you change your mind some B-schools will keep your place in the MBA class.