The time and resources required to achieve a competitive GMAT score are often underestimated and preparation postponed for too long.
Sticking to these guidelines on how to prepare for GMAT will give you a competitive advantage over many other prospective business school applicants. The tips below are meant to help you achieve the highest score you can.
In this way you will be able to make a realistic choice between the best MBA or Master's degree programmes and scholarship opportunities.
The GMAT exam
A competitive score in the Graduate Management Admission Test (GMAT) is a requirement for admission, and often also for scholarships, to most top international business schools for MBA, Executive MBA and specialised Master's degree programmes. Recently the Graduate Management Admission Council (GMAC) – owner of GMAT– introduced a new exam for Executive MBA applicants – Executive Assessment – but the GMAT is still widely used for both MBA and EMBA programmes.
Over 6,000 graduate business programmes at approximately 1,700 universities and organisations around the world accept the GMAT exam.
The GMAT exam is a computer adaptive test (CAT) conducted in English. Nowadays, it contains four parts: Analytical Writing Assessment (AWA), Integrated Reasoning (IR), the Quantitative section, and the Verbal section. It has been modified as it has developed, and some parts (e.g. testing on antonyms and directed memory) have been scrapped. The last major change occurred on 5 June 2012, when Integrated Reasoning (IR) was added to the test. GMAC explain:
The GMAT exam measures verbal, mathematical, integrated reasoning and analytical writing skills that you have developed in your education and work. It does NOT measure your knowledge of business, your job skills, specific content in your undergraduate or first university course work, your abilities in any other specific subject area or subjective qualities such as motivation, creativity and interpersonal skills.
GMAT content, structure and duration
Early in 2016 GMAC tested an option that allows test takers to rearrange for themselves the order of the sections. However, GMAC stated that the wider launch of the Select Section Order feature will depend greatly on the results of the research. GMAC may decide not to launch the feature for any number of reasons, including candidate dissatisfaction.
Currently the GMAT consists of these four sections delivered in the following order:
1. Analytical Writing Assessment
The Analytical Writing Assessment – part 1 of the GMAT exam – lasts for 30 minutes and concentrates on the analysis of an argument. In the first part, candidates explain the logic behind a certain argument and present their point of view. Here, critical thinking and the ability to communicate is measured.
Format: Essay
Topic: Analysis of an argument
Time: 30 minutes
Score: 0-6 in half-digit intervals
2. Integrated Reasoning
The idea of Integrated Reasoning is to assess the ability to combine data from multiple sources, to interpret information and the likelihood of results, and the ability to convert quantitative data between graphical and verbal formats. It comprises 12 questions that have to be answered in 30 minutes. Applicants may use a calculator but may not move to previous screens to change their answers or go back to skipped questions. The sections in IR are graphics interpretation, two-part analysis, table analysis, and multi-source reasoning.
Format: 12 questions
Topic: Multi-Source Reasoning, Graphics Interpretation, Two-part Analysis, Table Analysis
Time: 30 minutes
Score: 1-8 in single-digit intervals
3. Quantitative
The Quantitative section allows 75 minutes and test takers have to answer 37 questions. The quantitative section tests problem solving and the ability to reason quantitatively.
Format: 37 questions
Topic: Data Sufficiency, Problem Solving
Time: 75 minutes
Score: 0-60
4. Verbal
The Verbal section allows 75 minutes and test takers have to answer 41 questions. The verbal section consists of reading comprehension, critical reasoning and sentence correction questions.
Format: 41 questions
Topic: Reading Comprehension, Critical Reasoning, Sentence Correction
Time: 75 minutes
Score: 0-60
Testing time is 3 hours 30 minutes, but plan for about four hours if you wish to use the optional breaks.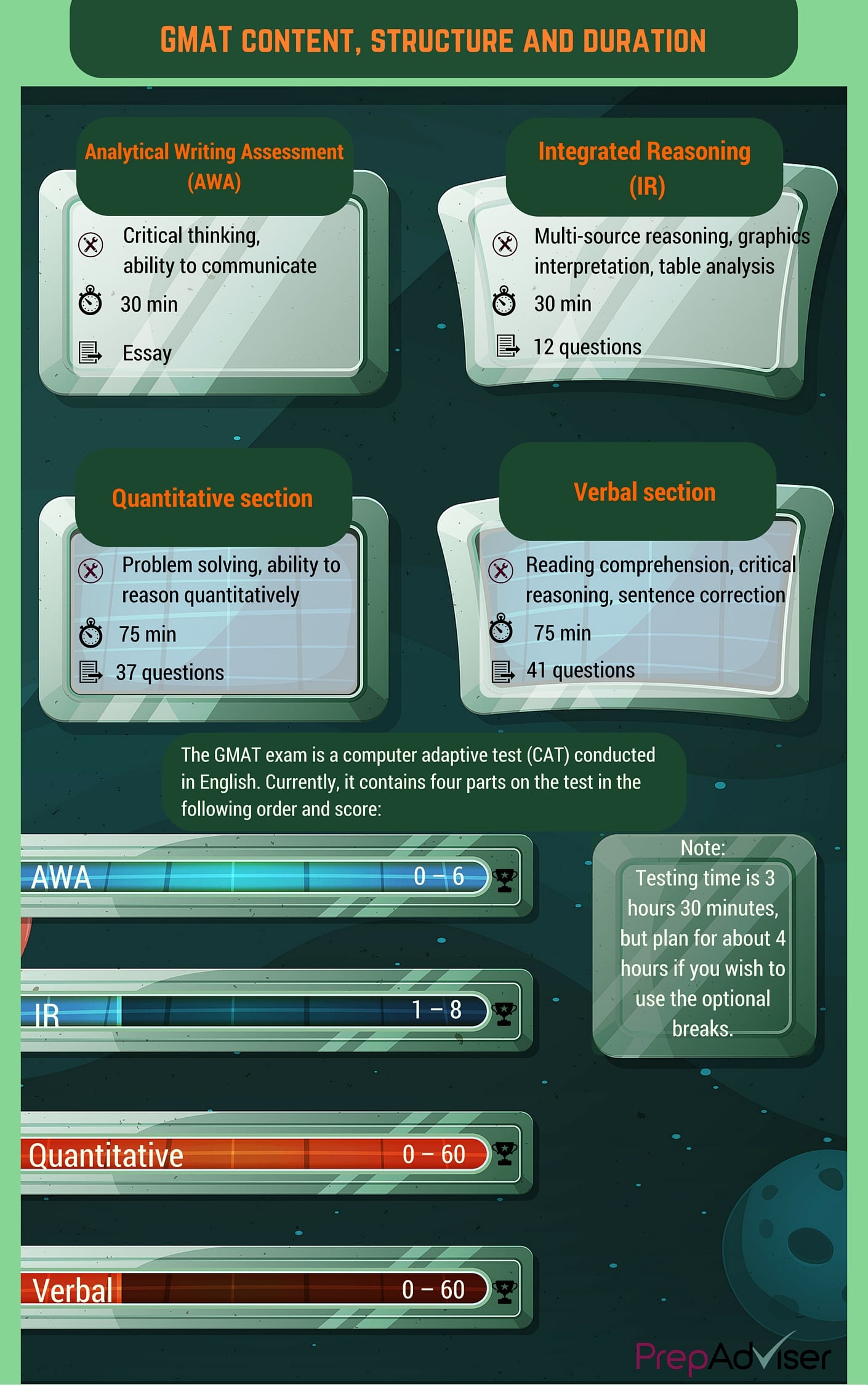 GMAT scoring
The overall score from the Verbal and Quantitative sections is reported on a scale of between 200 and 800. The scores from the AWA (0-6 scale) and IR (1-8 scale) sections are reported separately.
Although business schools commonly quote in their admission and scholarship requirements the overall score (200-800 scale), they do take into consideration the scores from the AWA and the IR sections. Admissions committees appreciate well-balanced scores.
Great discrepancies in performance on the different sections are alarming for the admissions officers. It must be noted that even if you have a good composite score, if there is a large gap between your verbal and quantitative scores, this may serve as a hindrance to gaining admission to top schools. Hence, it is best to ensure that you demonstrate the best of both abilities equally, instead of only focusing on one.
What is a good GMAT score?
A good GMAT score would be a score of 600 and above. However, if you want an excellent GMAT score, then you would have to score over 700. The 50 top-ranking business schools usually expect a score of 660 or more, but this may vary from business school to business school.
The latest average GMAT scores of students admitted to the full-time MBA programmes at Harvard Business School is 727, Stanford Business School is 732, and University of Chicago Booth School of Business is 723.
The average GMAT score for European universities is slightly lower than that required in the US. The average score for a full-time MBA programme for London Business School is 698, for IE Business School it is 680, and for the University of Oxford it is 698.
While some schools have a requirement for a minimum GMAT, others simply give the score range of the admitted students. Interestingly enough, the range at HBS is quite wide – from 510 to 790!
The average for an EMBA programme is lower than that for a full-time MBA and many business schools such as New York University Stern Business School do not even emphasise GMAT scores for admission into an EMBA programme. The average GMAT score for an EMBA programme in top business schools in the US is 640-650. However, with the introduction of the Executive Assessment – the new GMAC exam for EMBA applicants – the situation may change.
Not many Australian universities require a GMAT score as they use other criteria for analysing a candidate's competence. However, some MBA programmes do require a GMAT score, such as Macquarie Graduate School of Management which has the highest average GMAT score, in the region of 680.
Leading Asian business schools are also quite competitive in terms of GMAT scores. The top average scores are about 700, for example Indian Institute of Management (IIM) – Ahmedabad - 711, Indian School of Business (ISB) - 711, China Europe International Business School (CEIBS) - 692, National University of Singapore (NUS) – 672, and they don't fall below 610.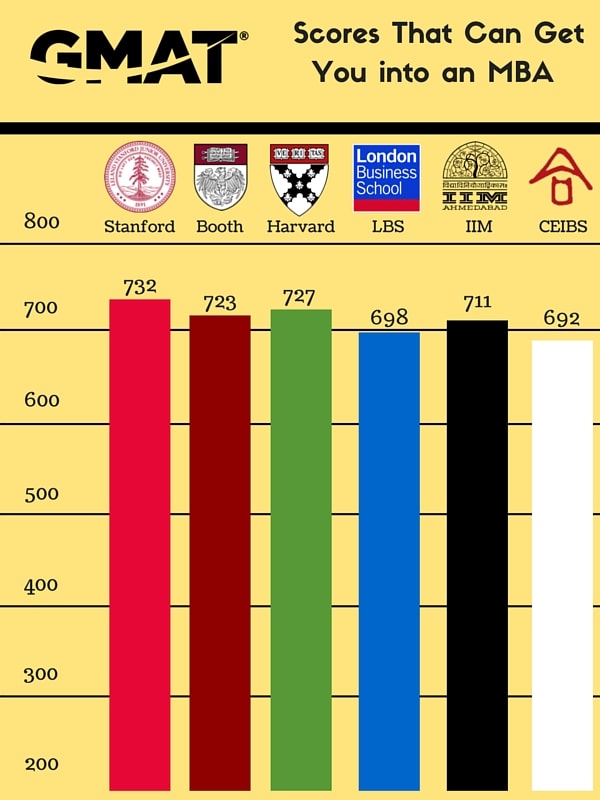 GMAT scholarships scores
Many business schools around the globe provide scholarships based on merit. They usually take the GMAT score into consideration alone or along with other factors.
The EDHEC Global MBA scholarship policy encourages candidates to perform well on GMAT and invites the possibility to retake in order to benefit from a scholarship upgrade.
In this case, for example, a GMAT score of 720 can bring down the MBA student's fees to less than 20,000 Euro.
SDA Bocconi full-time MBA scholarships cover 100% of the tuition fee for candidates with an outstanding profile and a minimum GMAT score of 700.
At some business schools a GMAT score of 650 can provide a full-tuition package with a scholarship, assistantship and even a stipend for part of the living expenses. Watch video interview.
GMAT brings value beyond admission
So, clearly your GMAT score matters beyond just admission. A merit scholarship will not only leverage your investment and speed up the ROI, but will also add more glamour to your profile.
Furthermore, your GMAT scores (valid for five years) are taken into consideration by some employers. According to the owner of the test – GMAC – GMAT scores are not intended to be used by recruiters or employers as a requirement for a job, for licensing or certification, for raises or promotions. The GMAT does not measure knowledge of business, management or economics. The GMAT is not intended to measure motivation, creativity, interpersonal skills or job skills.
Employers may only use GMAT results in relation to what the test actually measures — basic verbal, mathematical, analytical writing and integrated reasoning skills.
Intel Corporation's Melissa Evers-Hood shares with GMAC that the company values candidates with exceptional data analysis skills. This valuable skillset is developed in business schools and the GMAT is part of this learning process.
Data analysis skills are really important for us at Intel, because we live in an environment that's rapidly changing. That requires us to be very responsive. So being able to digest volumes of information and make recommendations based on what you see is critical for Intel's future success.
Management consulting companies, such as McKinsey, also look into job applicants' GMAT scores as part of the recruitment process. Although this is just one element which they take into consideration, it will be to your benefit to have a 700+ GMAT score if you wish to land a consulting job with one of the elite companies upon graduation.
How long to study for the GMAT
According to surveys by GMAC successful GMAT test takers invest about 100 hours of preparation in the exam. This time is usually split between guided preparation (course or individual tutoring), self-study and practice. Anticipate time for a second test with its associated preparation.
Guided GMAT preparation can be provided in a course (traditional classroom or online format) or in individual tutoring sessions (face-to-face or online). The choice depends on your learning style, your budget and the availability of preparation options in your location.
A typical GMAT prep course is about 40 hours. They can span two or three months depending on the intensity of the course. For example, if you attend one GMAT class of four hours every weekend for two months you will have 32 study hours of guided preparation. Of course these will be coupled by at least two hours per week of self-study which comes to almost 50 hours that you will commit to GMAT over these two months.
Test prep experts recommend that self-study and practice should be evenly distributed during the week, instead of being squeezed into the weekend only.
Study materials and books
There is a huge offering of GMAT prep books and study materials. GMAC publish the Official Guide for GMAT Review annually. Many of the established GMAT prep companies publish their own GMAT preparation books reflecting their proprietary teaching methodology.
Check out Discover the Best GMAT Books
Yet others combine different resources in order to make the best selection available for their GMAT students.
One such instructor with over 15 years of experience, and students hitting scores close to the maximum, shares:
All GMAT preparation books have several crucial deficiencies which tend to hinder your preparation for the Quantitative section instead of helping you to achieve a high score. No matter which GMAT preparation book you use, it is most likely going to confuse you rather than clarify the subject.
Many students who prepare primarily on their own also combine different resources themselves. Of course what works best for each student depends on his/her starting level, potential and learning style.
Some companies prepare GMAT study plans in which they give a step- by-step breakdown of the content and resources to use for your preparation.
Common mistakes in GMAT preparation
Postponing your preparation for too long
As already described in more detail above, achieving a competitive GMAT score can take you a while. Some test takers invest up to a year in order to achieve the best score they can. The majority commit about three or four months. Official test scores are available four weeks after the test date.
Results of the actual test are usually lower than expected for a number of reasons. Your score on mock tests can be about 50 points lower than that on the actual test. So it is recommended to anticipate an additional two months to retake in case you are not happy with your score. You can sit the GMAT at least 16 days after the previous test, but you should also invest in additional preparation to make sure you will perform at your best level.
Last, but certainly not least, it is much better to take the GMAT before you shortlist the business schools to which you will apply. Once you have your actual score, you can target the schools whose admission requirements you meet and where you have realistic chances of admission. Selecting schools first and then trying to achieve the required score may result in not being able to complete the application process because of a too-low GMAT score.
The GMAT can be quite challenging even for native speakers of English, as well as for those who feel at ease with the quantitative problems. There are a number of reasons for this. With its four sections, the GMAT tests different skills and most individuals tend to be strong in some parts, and more challenged in others. Learn more in the video:
Self-study is an indispensable part of the preparation, but it should be put in a framework that is suited to your level and learning style.
Some prospective GMAT test takers need to study maths virtually from scratch, while others will be ready to dive into the details of the Quantitative section. While many test-takers use English in their daily communication at work, the Verbal section will require that they refresh the grammar and complex vocabulary from a diversity of areas.
Finally, even if you master all the knowledge, the GMAT actually test your skills of applying it in the most relevant way. So, GMAT-specific approaches exist for each section and each type of question.
That is why it is most effective to work with professional GMAT instructors (not just someone who scored well in the GMAT) who can guide you through your preparation.
Another essential add-on to self-study is monitoring your progress and making amendments to your study. Monitoring should be done with realistic GMAT questions and ideally under realistic conditions. Here again, the step-by-step approach is the most effective – first master one type of question of a section then gradually build up to the full section, etc.
It takes time to prepare well for the GMAT. So commit to preparing for as long as necessary to achieve the highest and most balanced score that you can. Just like in sports or playing a musical instrument, regular practice and commitment yield the best results.
Don't lose the momentum. After studying for the GMAT for months you should take the leap of faith and take the test once or twice while your knowledge, skills and stamina are at their peak. Postponing for too long will just result in a lower score.
Lack of practice under realistic conditions
Even if you have mastered the knowledge and skills, you should practise a lot under realistic conditions. Include working on timed tests, computer adaptive format and current GMAT questions.
While the actual test is about 3.5 hours long, the overall time spend at the testing centre on the test day can be over 4 hours. You will need to keep your concentration and speed of work throughout that time. Some of the more challenging sections will actually come near the end of the test. So, you have to be prepared for the 'long-distance run'.
This is an essential part of your preparation and you should plan for at least two weeks after you have completed your core GMAT preparation and before you sit the actual GMAT exam.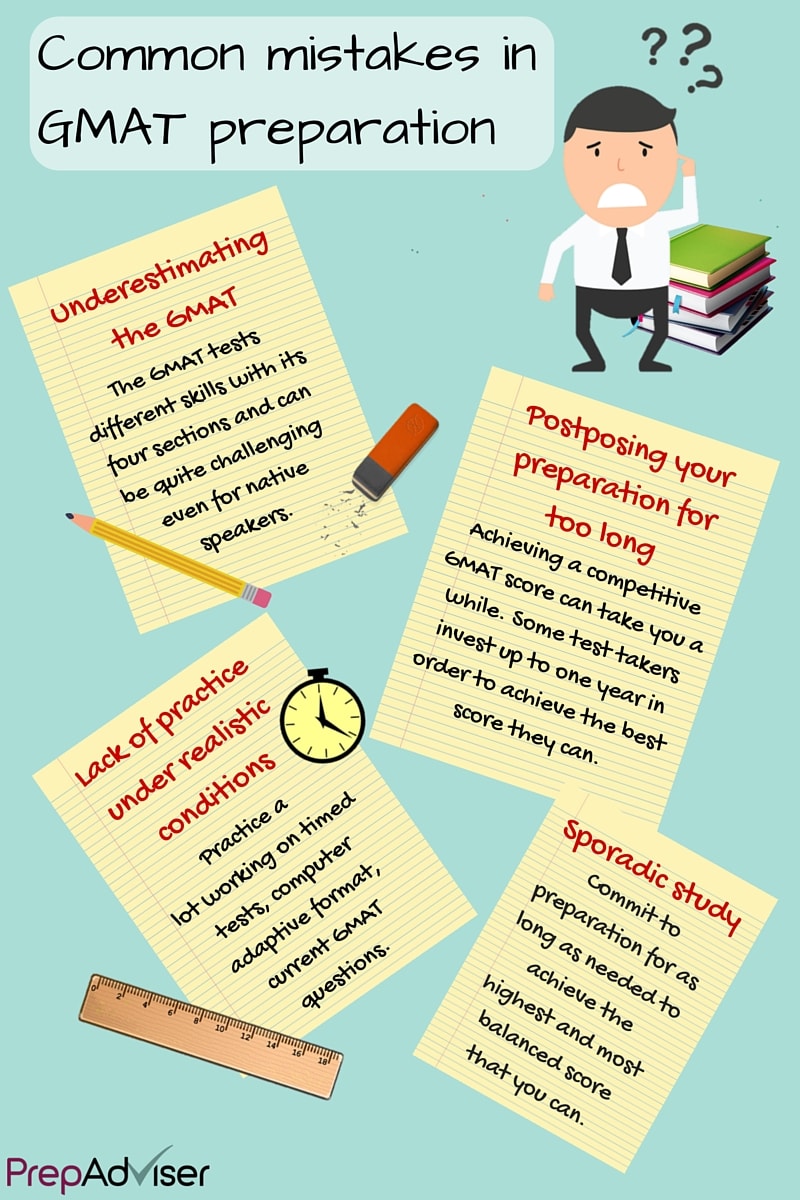 How to select a GMAT preparation course
The GMAT requires knowledge of Maths and Standard English language. You will need knowledge of calculus, algebra and geometry. In English you will need grammar, vocabulary, spelling and speed of reading and writing.
So, make sure that you select a course or a tutor who will take the time to check your starting level and support you in building a solid foundation. Starting out with gaps in your knowledge can block your progress, generate frustration and slow your preparation.
Start early. The GMAT score is valid for five years and it is never too early to take it. You should take the test no later than a month before the application deadline. Ideally, you should take it before you shortlist your b-schools, so that you can adjust school selection and application to your actual score.
If you have to squeeze your preparation into a shorter timeframe, look for intensive study options. Allow about a month after completing a GMAT course for further practice before you take the test. Some "on-demand" courses and tutoring can be an excellent option in this case.
Check out: How to Select a GMAT Preparation Course
Be ready to commit a budget to your GMAT preparation, because a high GMAT score can help you win a scholarship and gain admission to a high-calibre school. In addition, GMAT skills are transferable outside of the b-school classroom, as illustrated above. So don't see this investment only in the context of your application for admission.
To get a feel for the GMAT test and GMAT preparation, check out the Free Live Online GMAT Classes