You need to consider the pros and cons of the GMAT – and check with the schools you are considering – in order to make your decision.
GMAT for graduate school admissions
The Graduate Management Admissions Test (GMAT) is a standardised test developed by the Graduate Management Admission Council (GMAC). This test is different from the Graduate Record Examination (GRE) administered by the Educational Testing Service, which is the most popular standardised test for Master's programmes that are not business-oriented.
If you are considering graduate studies in a specific field of business, such as Finance or Management, or if you are considering an MBA, you will likely have to take one of these two tests. The graduate school will use your score as part of its consideration of your admission application.
According to GMAC, the GMAT was "created by business schools for business schools". Although none of the test's content is business-specific, GMAC states that it has performed studies to validate its claim to be the best measure of a B-school candidate's propensity for success when it comes to a graduate business programme. In the last decade, however, the proliferation of business programmes accepting either just the GMAT or the GRE score, or both of them as alternatives, has given students more of an option. Despite this, the GMAT remains the top choice of MBA prospects.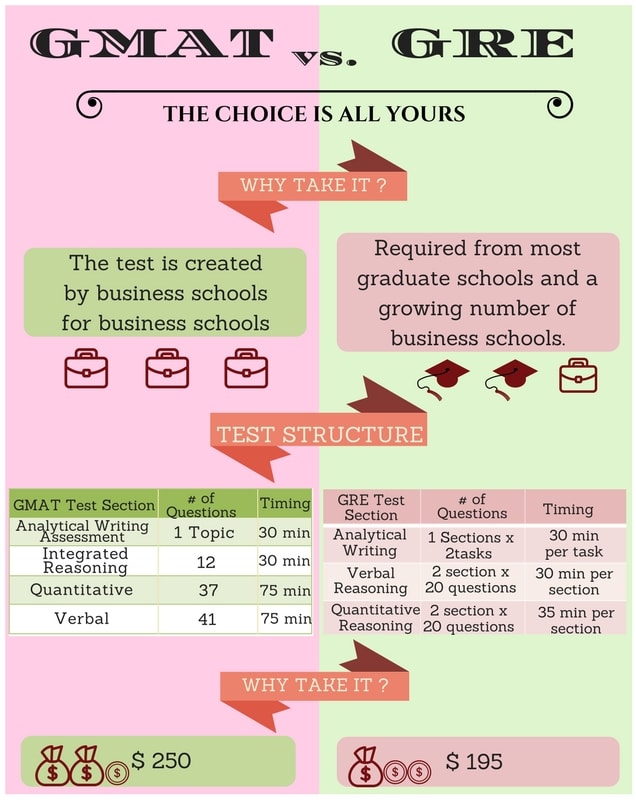 GMAT structure and scoring
The GMAT test has developed a prestigious reputation around the globe. It is currently accepted by over 6,000 programmes in 2,100 universities and institutions. With more than 600 test centres in 114 countries, there is a good chance you will have a testing centre near you.
There are four sections in the GMAT test: Analytical Writing Assessment, Integrated Reasoning, Quantitative, and Verbal. It can be taken up to five times in a year, and you choose when you want a score to be sent to a B-school or university. You should plan for approximately four hours of test-taking time, which includes short breaks between sections.
Each section is scored separately and listed in your official score report. The overall combined score of the Verbal and Quantitative sections ranges from 200 to 800, with two-thirds of test-takers receiving a score between 400 and 600. It is this overall combined score that graduate schools quote in their admission requirements, but they look at the scores of all four sections when they review your application. You will see your preliminary, unofficial score upon completion, and before it becomes official you have the option of cancelling or keeping it.
Check out:
How to Prepare for GMAT – Essential Guide
GMAT or GRE?
If the B-schools you are considering accept either the GMAT or GRE, how do you decide which one to take? For example, for their Master's in Management and Master's in Finance, EM Lyon Business School (Fnace) requires an official management aptitude test score. Applicants can choose between the GMAT, GRE and TAGE-MAGE (Test d'Aptitude aux Etudes de Gestion – a French aptitude test for management studies) test scores. The European School of Management and Technology (Germany) has the following advice for prospective applicants to the Quantitative Business stream of the Master's in International Management programme:
A GMAT is highly recommended for all applicants to this stream. The average GMAT score is 640.
So, which test to take depends partly on your own preference, and partly on the school's. Some experts feel that if a student chooses to take the GMAT, he or she is fully committed to a business programme, and thus is more likely to succeed. Others feel that either choice is acceptable unless a B-school states a clear preference.
If you are totally committed to an MBA or a Master's in the field of business or management, the recommendation is to take the GMAT. If there is any doubt in your mind, or if you are considering a dual-degree programme, you may want to take the GRE to be on the safe side. The GRE is less expensive than the GMAT by roughly a fifth. Both test scores are valid for five years.
Whichever test you decide to take, it is highly recommended that you focus your attention on one or the other, not both. Preparation for the test takes a considerable amount of time and effort on your part, and you do not want one score to suffer because you were trying to take both. Test preparation can also be expensive if you choose to purchase materials, join a prep course or hire a tutor to assist you with study and practice. If you are at the beginning stage of your planning, a good idea is to take both GMAT and GRE practice tests and see if you do better on one than the other.
Check out:
Should You Take GMAT or GRE? (Video)
Is the GRE Test Right for You?
If you take both, you will want to use whichever score is higher. Since the tests operate on different scoring ranges, the makers of the GRE have developed a tool for comparison. On the Educational Testing Service website, you can see how a GMAT score compares with a GRE score. Many schools use this tool for comparison as well.
Keep in mind that no one test score is going to determine your acceptance to a particular school. The test score is just one component of an overall application, along with transcripts, essays, letters of recommendation, etc.
London Business School (UK) accepts both the GMAT and GRE for admission to their Master's in Finance programme and highlights an additional argument to focus on for your test preparation:
A high test score is important to some recruiters, so you should be prepared to take it to maximise your future employment potential.
One last consideration concerns scholarships. Some scholarships are GMAT- or GRE-specific, such as those of EDHEC Business School (France) and you may do well to research available scholarships before making your decision on which test to take.
Check with potential graduate schools first
Your very first step when making any decisions about your graduate education is to check with the schools you are considering. Websites may list specific information about which standardised test score a particular B-school or university will accept, but if they don't, be sure to call and find out. All schools will vary in one way or another in regard to specific testing requirements or minimum scores accepted.
Other standardised tests
There are other standardised tests that you may hear about, such as the MCAT (Medical College Admission Test) or LSAT (Law School Admission Test), for specific medical or legal graduate programmes. But for most B-school applicants, the GMAT or GRE is required. If you are an international student you will also be required to take a language proficiency test such as the TOEFL (Test of English as a Foreign Language) or the IELTS (International English Language Testing System).
And remember, higher test scores open more doors and improve your chances of admission and scholarships.